Thursday 28 October, at Amnesty International's Human Rights Action Centre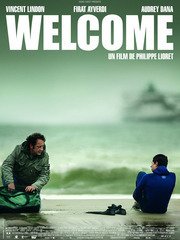 French director Philippe Lloret's moving film offers an extraordinary insight into love, life and obstacles for a young Kurdish migrant crossing the English Channel from Calais in the hope of being reunited with his sweetheart in London.
This film was a smash hit in France where the complex issues around immigration are played out daily at the French channel ports.
Showing at Amnesty international's Human Rights Action Centre, 17-25 New Inn Yard, London EC2A 3EA on Tuesday 28 October 2010, 6.30pm.
This event is free but requires booking (book here)
SYNOPSIS
Bilal (Firat Ayverdi), a 17-year-old Kurdish refugee, has spent the last three months of his life travelling across Europe in an attempt to reunite with his girlfriend who recently emigrated to England. The journey has been difficult, but the end is in sight when Bilal finally reaches the far north coast of France, where he can literally see the white cliffs of Dover across the English Channel. But it is here that his journey comes to an abrupt halt as local authorities, and the immigration laws they are enforcing, prevent him from going any further. Not content with merely looking upon the country he desires to call his home, Bilal devises a plan to swim across the bitterly cold waters of the Channel, and heads to the local swimming pool to commence his training. It is here that he crosses paths with Simon (Vincent Lindon), a middle-aged swimming instructor with a dejected spirit, who is privately reeling in turmoil as he dreads an imminent divorce from his wife (Audrey Dana). Despite their differing ages, the two men discover that they have much in common, and their friendship develops into a strong bond that will prove necessary for both men to realise their dreams for a happy future. A huge box office success in its native France, writer-director Philippe Lioret (Dont Worry, Im Fine) has created an absorbing story that speaks not only of the social issues of the day, but of the very nature of the human spirit.
(source: IMDb)