25,000 expected to travel from the UK for this year's Hajj in mid November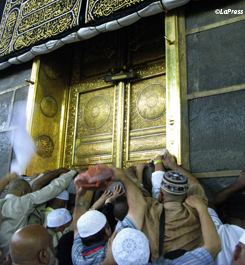 06 November 2010: The Health Protection Agency (HPA) is reminding UK travellers going to Makkah (Mecca) for the Hajj pilgrimage this year to seek health advice before making the journey so that they will enjoy a healthy trip.
The Hajj is the largest annual international gathering of its kind with more than two million Muslims travelling from around the world. Around 25,000 are expected to travel from the UK for this year's Hajj in mid November.
The influx of a large population from around the world to a confined area has historically increased the risk of infectious disease outbreaks in particular meningitis and respiratory infections.
The HPA commissions the National Travel Health Network and Centre (NaTHNaC) to provide travel advice. The full list of advice and recommendations from NaTHNaC can be found at http://www.nathnac.org/travel/factsheets/Hajj_Umrah.htm
Some of its top tips for pilgrims include: To be up to date with all routine vaccinations (including MMR and polio); to have a valid certificate of vaccination against meningococcal meningitis; to take a basic medical kit, including any regular prescription medicines and oral rehydration therapy and self-treatment for diarrhoea; and to obtain comprehensive travel insurance.
In addition, the Ministry of Health in Saudi Arabia recommends that all pilgrims have the seasonal flu vaccination.
Dr. Jane Jones, a travel health expert at the HPA said: "It's really important that, if they haven't already done so, pilgrims should seek medical advice soon about their trip, both to ensure that they will be able to comply with Saudi Arabia's entry requirements for Hajj (e.g. a valid certificate of vaccination against meningococcal meningitis) and to protect their own health during what can be a physically demanding pilgrimage. It's not just a case of ticking off a list of vaccinations. Every pilgrim is unique and should see their health care practitioner to determine what their particular health needs might be during Hajj."
She continued: "For many pilgrims Hajj is a once in a lifetime trip and being well prepared will help ensure that it is a healthy experience that is memorable for all the right reasons."
by Stephen Ogongo