From political persecution to safety in Sweden: young Swedish MP brings the plight of young refugees to the fore 13 January 2010. A refugee himself, sent off with human smugglers to safety in Sweden by his parents when he was 3 under the 1990 Gulf War bombing of Iraq, Hanif Bali was determined to bring the plight of young refugees to the fore in the political arena of his new home country, Sweden.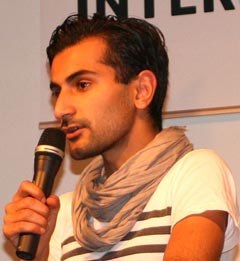 At 16 he joined the youth wing of the centre-right Moderate Party; at 18 he became a Swedish citizen just in time to vote; at 23 he competed in the 2010 general election as a candidate for the Swedish Parliament party.
He is now a Member of the Swedish parliament for Stockholm's Solna constituency and a member of the Labour and Education committee.
With the strength of his past experience – 16 years of life staying in 13 different foster families around the country – he's lost no time in actively pursuing a better deal for unaccompanied refugee children (1,250 were granted asylum in Sweden last year, mostly from Afghanistan and Somalia), promoting a wiser policy of integration, countering common misconceptions about refugees.
UNCHR reports that when party colleagues in southern Sweden's Vellinge municipality refused in late 2009 to receive refugee children, Hanif's critique was merciless. "I don't believe in agreements forcing municipalities to receive refugees, but the situation for unaccompanied refugee children is acute and we need more municipalities to take responsibility," he said.
In an interview to UNHCR, Mr. Bali said, "We have to stop taking care of these children on an industrial basis. Putting them in institutional homes is not the way to integrate them into society."
"The best thing we can offer the children is placement in a family, where they can build strong social ties. We also have to realise that taking care of a refugee child could be a full-time task, and the financial compensation has to reflect that," he told UNHCR.
"It's also important that integration efforts are carried out responsibly. I think municipalities who mismanage integration should be sanctioned", he added, noting that integration failed in municipalities where policies in key areas such as education and employment were weak. "A good option is to use the same model for natives and immigrants," he said, adding that "functioning integration policies are possible, but politicians need to understand what works," he told UNHCR.
The young MP's dream is to see the day when refugees wanted to come to Sweden not only to escape persecution and conflict, but also because they know they will be able to build a future for themselves there.
Read the interview by Kristin Lohse/UNHCR.