The actress on the island as a UN ambassador: "I look at this beautiful sea and it hurts to see how many people have risked and lost their lives".
Lampedusa, 19 June 2011 – Angelina Jolie joined the United Nations High Commissioner António Guterres on a surprise visit to Lampedusa on the eve of the International Day for Refugees.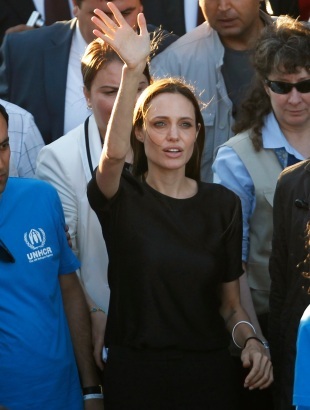 Together they visited the First Refuge center of Imbriacola with its 130 refugees, then the former military base of Loran with its 265 unaccompanied minors. Finally, they stopped at the 'Door of Europe', the monument dedicated to migrants.
"It's very hard to imagine, looking out at this beautiful sea, how many people have risked their lives and how many people have risked their children"s lives and so many of them have lost their lives, at sea," said the Hollywood star and Goodwill Ambassador for the UN refugee agency.
"To risk getting on these rickety boats, knowing they can get thrown overboard, knowing they could suffocate, or starve, but still… their life is that horrible that they put themselves in this position and they risk, going to sea, to find a better life."
Then, turning to the citizens of Lampedusa Ms Jolie asked, "Can you imagine how it must feel to finally cross into Italy? For the coast guard to save them and carry them to safety, save their children's lives and give them a chance to survive and to have a future, and what it means to them" ?
"I am honored to be here with all of you," she said to the citizens of the tiny island at the door of Europe, " and I'm grateful to Italy to have kept the borders open, this has made a big difference."
According to the actress, "We need more tolerance" to tackle immigration. Asked whether Europe should change its attitude towards immigrants, the star replied: "I am an American and cannot speak of Europe, but I come from a country that has drawn many benefits from immigration."
"Lampedusa is a beautiful island, is the first time here but I think I'll be back", the actress has continued between the citizens applauded. "What you have done for migrants has meant so much – he said – I look at this beautiful sea and it hurts to see how many people have risked their lives and many have also lost".
Together with UN High Commissioner for Refugees Antonio Guterres, Ms Jolie witnessed the laying of a wreath into the sea dedicated to all migrants who died during the crossing to reach the Sicilian coast. The crown has been thrown into the water and placed by divers on the wreck of the Coast Guard boat that ran aground last May 7 on the rocks.
The star's agenda included an unscheduled stop to leave her fingerprints, just as the refugees are forced to do when they land on Lampedusa. Her fingerprints were taken under the astonished and amused gaze of the authorities and of the Police in charge of identification of migrants.