'I have always sought to bring greater attention to those forced to flee conflict, violence and misery'.
06 October 2010: Photo journalist Alixandra Fazzina is this year's winner of UNHCR's prestigious Nansen Refugee Award for her striking coverage of the devastating human consequences of war.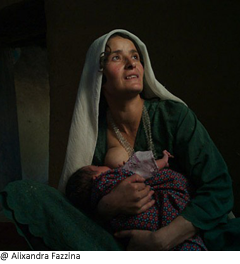 Working in remote and often dangerous environments such as Pakistan, Somalia, Yemen and Afghanistan, her work portrays the plight of displaced people with compassion and empathy.
Speaking about her photos Alixandra Fazzina said, "I hope my photography gives someone else a moment to stand still, take the time to look, look properly, and engage in a slightly different way with the world".
Ms. Fazzina began her career as a photojournalist embedded with the British army in Bosnia. Since then, she has turned her lens from the frontlines to the refugee camps to document the human suffering caused by war.

Alixandra has an uncanny ability to work in the most difficult social and geographical environments and is recognised for her compassionate and empathetic approach towards the human condition, always fully aware of the bigger picture.
On learning of the award Fazzina said, "I am overwhelmed and absolutely delighted to have been recognized by UNHCR with this distinguished honour. I have always sought to bring greater attention to those forced to flee conflict, violence and misery. To lose one's home and have to start a new life is one of the greatest challenges anybody can face, yet millions every year have no other choice."
Alixandra's reportages have been published across British and international titles including The Sunday Times, The Guardian and Observer, The Telegraph and The Independent as well as TIME, Newsweek, The New York Times and Stern.

She works regularly with UN agencies and NGOs such as MSF, Concern, Oxfam, Save The Children and Human Rights Watch, to document their work and produce advocacy campaigns. Alixandra is the author of `A Million Shillings – Escape From Somalia' (Trolley Books) which chronicles the exodus of migrants and refugees along people smuggling routes from Somalia to the Arabian Peninsula. Alixandra Fazzina is represented by NOOR and is based in Pakistan.
Formerly known as the Nansen Medal, the award is named after the late Norwegian polar explorer Fridtjof Nansen, the first League of Nations High Commissioner for Refugees and the 1922 Nobel Peace Prize laureate.
Instituted in 1954, the Nansen Refugee Award is given annually to an individual or an organization in recognition of extraordinary and dedicated service to refugees and is the most prestigious honour conferred by UNHCR. The award consists of a commemorative medal and a US$100,000 monetary prize donated by the governments of Norway and Switzerland.
Anybody can nominate someone or some organization for the Nansen Award, but a special committee selects the annual winner. Recipients have been chosen from many different areas. Whatever their creed, colour, age or profession, every winner put in extraordinary effort and time to help the forcibly displaced around the world.
The monetary prize that accompanies the Nansen Award is intended to enable the recipient to pursue refugee assistance projects drawn up in consultation with UNHCR. To date, so-called Nansen Fund projects have benefitted refugees in places such as Cambodia, Botswana and Venezuela.
They have contributed towards the setting up of a special ward for refugee children in Pakistan, the building of schools at Katumba in Tanzania and income-generation projects for people displaced by landmines in southern Lebanon.
More than 60 individuals, groups or organizations have won the Nansen Refugee Award since Eleanor Roosevelt became the first winner in 1954.