Archie Panjabi bags award for tough character of Kalinda in Good Wife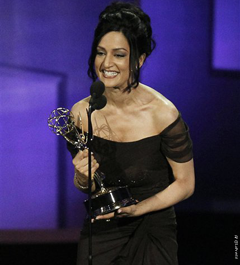 31 August 2010: Indian origin British actress Archie Panjabi has made it big.

Just 38, she won the top award for television performers in the U.S. — Emmy — for her tough and mysterious character of Kalinda in "Good Wife".
The competition was tough, but Panjabi triumphed over "Good Wife" co-star Christine Baranski. The other nominees in the Best Supporting Drama Actress category included "Mad Men" nominees Elisabeth Moss, Christina Hendricks and Sharon Gless.
Panjabi is the one you have seen in movies like "Bend it Like Beckham" and "East is East".
As a child, her parents' friends would often disapprove of her dreams of acting. For them, acting was a 'low-class' profession.
Panjabi says since she was a baby she wanted to be on TV, as film was just impossible. And the reason was not hard to see. You hardly had any Asian women in Western cinema those days.
But even that did not dither her mother from encouraging Archana aka 'Archie'. And the result was for all to see. She looked stunning in her Tadashi Shoji dress, as she expressed gratitude to Angelina Jolie after receiving the trophy.
Prior to Partition, her family was putting up in Pakistan, but left for India. In the 1970s, the family moved on to Britain. Setting up home in Hendon, northwest London, her father Govind opened a restaurant, while her mother Padma became a teacher for children with special needs.