'Societatea Românca': Romanian Society in the UK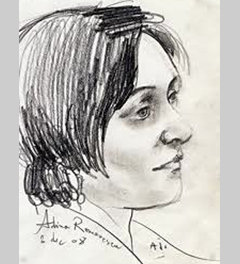 04 July 2011. Ionela Flood has lived nine years in Britain, but she's homesick. So she goes back to Romania every few months while managing the Romanian Society ('Societatea Românca') she founded in London. She work with volunteers for various projects – book launches, exhibitions of Romanian icons – and gives a helping hand to those who want to set up other Romanian organizations in the UK.
Volunteers and members
"We have 2,000 members in our association," she says. Members and consumers of events, she observes. Romanian associations in the UK, unlike those in Italy, which are connected to the national (Romanian) government and participate in local elections, are dedicated to events that aim to build a new life in a foreign land where the world is made up of lost pieces.
The 2,000 people that belong to Ionela Flood's association make up the audience of the events: in fact, only she and a group of 10 employees work directly in the organization of all events. Sometimes, as she notes, until four in the morning. Work is done by volunteers, and often they themselves participate with 100 pounds to the sponsorship of events.
One of the most unusual things Ionela Flood managed to do since she went abroad, is a volunteer initiative: it seeks people offering to work without pay on projects organized by the Society. After an internship, they receive references for employment.

Non profit total
"We all put our hands in our pockets," she says. She has worked with European funds, on the basis of government projects through the Department of Romanians in the Diaspora, but like any diaspora association hers is financially autonomous.
"Sometimes we pay for new exhibitions ourselves," she says. Since all the association's events – mostly cultural – are free entry, "of course we come out at a loss," she remarks.
Some of the volunteers learn how to organise social networks in the diaspora. She hopes that wherever they go in the world, they will repeat the pattern. Two of her closest collaborators, Ariadna Petrii and Andrei Tudor, left the UK for Austria and Spain.

Societatea Românca receives requests for jobs, and once the House of Commons asked for their expertise in regards to data on how the Romanian community members integrate into British life.
Between two shores
Otherwise, Ionela Flood writes poetry in her mother tongue. Her second volume "The Perfume of Angels" recently came out. Her first book, "Shores Of Love" has received a Grigore Vieru award in 2009.
"Did you know that the Greeks had six names for six types of love? We have only two, and Aramaic are 40, "she says.
She talks about her latest book, inspired by the hypostasis of love, maternal, spiritual, romantic. "Every six weeks I go to Bucharest. I miss my village, I was born near Chitila. I miss the country, friends, relatives. Otherwise, I am familiar with European way of life, "she says. Which is cooler and more solitary, as she describes.



Ionela and the Romanian organized networks
The most important achievement is organizing the Romanian Society network – social networks within the community so that Romanians have where to call if necessary. Even if poorly funded, associations sometimes morally support them, or give a tip to those who need jobs, which is not a small thing in a country where they don't know anyone.
Community support and social integration are the main objectives of the Romanian Society, through the work of volunteers.
Ionela Flood organized several cultural projects, but the single thing she boasts about is that her community work began back in the days when there were no Romanian institutional organizations in London.
The Company's portfolio includes exhibitions, concerts. In addition, Ionela Flood managed to have contacts with the Romanians all over the UK, from schools to churches. Thanks to a long experience with volunteers.
Ouana Florine Iurascu
*Tthe Romanian Society is based in Hammersmith and Fulham, and meetings take place at Cafe Smart Coffee, 309 North End Road, 0845 638 1394.