Article translated from The Polish Observer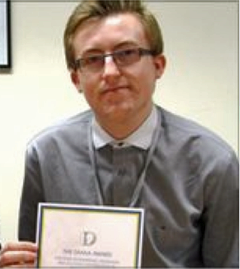 01 February 2011. A sixteen-year old from Wrexham has shown that Poles can be stick out in Britain not only for almost-for-free work, or the tendency to isolation and crime, but also for activities aimed at changing the negative image of our compatriots, their integration into British society, knowledge and education.
Last week, Maciek Szukała was awarded the Princess Diana Award. The award was established in 1999 to reward young people who motivate their peers by their attitude towards progress, mutual understanding and integration.
Revealing how important this award is for British society is the fact that BBC is dedicating to Maciek several articles. This Pole was also the hero of a TV reportage, a lot of websites and British newspapers have written about him as well as – obviously – the Polish media.
But when it comes to the latter, Matt expresses a certain disappointment. Not out of vanity, because he is not vain, as made clear by what he is doing. Rather, he is discomforted: the exposure was too much about him and the prize, and less about the whole essence of the problem, namely that the Poles do not like and do not want to integrate and Maciek stresses that they have a lot to lose by this kind of behaviour.
When he came here with his mother from his hometown of Poznan, he did not know English. Attending a British school he noticed that the Polish students were shunned by their Welsh peers; even those who knew English, preferred to talk and spent time during the brakes with others polish colleagues not Welsh ones.
"Such an attitude, such isolation rears conflicts. It gives the impression that they are isolated because they have something to hide, because we have to remember that British society is an open society, and such behavior is incomprehensible to them," says Maciej.
Very quickly he concluded that it was time to change this situation and he planned to take it onto himself to do so.
"I had to explain the Welsh to the Poles, and even more Poles to the Welsh, for this purpose I had to not only learn English, of which previously I had no skills at all, but to master it well, not only at school level, in order to talk freely with my Welsh colleagues.
Maciek resolved that every day he would learn at least 50 words. "This proved easier than I thought. I myself was amazed at such rapid progress," he said.
Today, after several years of study, some British people mistake him for one of their own: they are surprised not only for his rich vocabulary, but also for his great accent and pronunciation.
But Maciek did not put his idea of integrating Poles with the Welsh colleagues on hold until he mastered the language better. He began almost immediately. In so far as he could, with some English and a bit of sign language, he began to explain Welsh people that the behavior of his compatriots did not show the reluctance, but rather shyness, the sense of alienation, and urged Poles not to shun the Welsh who tried to talk to them.
"I asked my colleagues, those who know English, to tell them what they talk about with other Poles", he so as well of course.
Maciek makes no secret, however, that despite some success in this field – the integration of the whole Polish emigration is extremely difficult.
"There is a lack of will, lack of motivation, because generally Poles do not want to integrate. Even those who think of settling here for a long time or forever.
"They live as if they were here temporarily, they are sunk in apathy, not interested in the culture of the country where they live, the environment, society. And yet, from what I last heard, Poles are over a million.
"We are a powerful minority and we could have an impact, if – I'm not saying most of us – but at least as a prominent part of us took part in public life. We would also have the opportunity to show a much better side, to change our image, which unfortunately is not good. It is still dominated by the xenophobic stereotype by which Poles are usually cheap construction workers, or, brawling drunks."
But the fact that this happens does not discouraged Macko, on the contrary, it encourages him to act on an even broader scale. Wrexham and the surrounding area is home to about 20,000 Poles, a third of all residents. Maciek wants all of them to feel as at home, to actively participate in the social life of the city, of the region.
And why not? According to Maciek, this behavior of his countrymen stems from distrust, and this in turn is the result of the complexity of Polish history: "In the past, we were often deceived by the other states, other nations. I think that this is the reason for our shutting down to others".
Through his example, Maciek wants to encourage changes in Polish attitudes. He has more and more opportunities to make those changes because the city authorities and representatives of various civil society organizations know him and his work (he works with the Red Cross, for instance), and they are treating him like one of them – a British boy.