Social worker appointed CBE in the New Year Honours list
31st December 2010: For brining to public attention the UK's role in sending children to former colonies where many suffered abuse, social worker-cum-founder of the Nottingham-based Child Migrants Trust Margaret Humphreys has been appointed CBE in the New Year Honours list.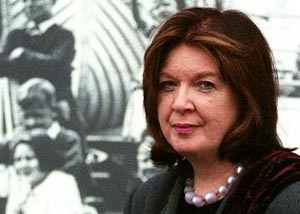 Humphreys was honoured in 1992 also with an Order of Australia for her work helping former child migrants.
Child Migrants Trust helps reunite former migrants living in countries such as Australia with their relatives.
Also an author and whistleblower from Nottingham, England, she in 1987 investigated and brought to public attention the British government program of Home Children.
This involved forcibly relocating poor British children to Australia, Canada, and other parts of the Commonwealth of Nations often without their parents' knowledge.
Children were often told their parents had died, and parents were told their children had been placed for adoption elsewhere in the UK.
According to Humphreys, up to 150,000 children are believed to have been resettled under the scheme, some as young as three, about 7,000 of whom were sent to Australia.
Saving money was one of the motives behind this policy. The children were allegedly deported because it was cheaper to care for them overseas. It cost an estimated £5 per day to keep a child on welfare in a British institution, but only ten shillings in an Australian one.
Humphreys' research began in 1986. As a social worker involved in post-adoption support, she received a letter from a woman in Australia who said that, at the age of four, she had been shipped from the UK to a children's home in Australia, and was now looking for help in tracing her parents in Britain.
Humphreys' investigations led to the exposure of the child migration scheme and to the establishment of the Child Migrants Trust, initially financed by Nottinghamshire County Council, her employer, and later by the British and Australian governments, and constituted as a registered charity under English law.
The Trust was later established as an incorporated body to comply with Australian regulations and opened offices in Melbourne and Perth.
Empty Cradles, Humphreys' account of the formation and early struggles of the Child Migrants Trust was published in 1994. Its sales of 75,000 copies helped to fund the work of the Trust at a critical time when grants had been stopped.
Apologizing to the `Orphans of Empire', the then Prime Minister Gordon Brown in February 2010 said the country was sorry for the 'shameful' and 'misguided' child migrant program of the 1920 to 1960s.
Brown told the House of Commons: 'We are sorry they were allowed to be sent away when at their most vulnerable. We are sorry that instead of caring for them, this country turned its back.'
The formal apology came five months after the UK government expressed its willingness to saying sorry to thousands of British child migrants sent to Australia last century.
The others in the New Year Honours list include: Nottinghamshire's Lord Lieutenant Sir Andrew Buchanan, who was made a Knight Commander of the Royal Victorian Order (KCVO); John Wood, a Forestry Commission community ranger from Mansfield, who has become an MBE; and Professor Michael Cooke, chief executive of Nottinghamshire Healthcare Trust. He was appointed CBE for his services to mental healthcare.