Musa Bako wrote 'I am Who God Says I Am'

29th October 2010: A Christian pastor has made it big, after his critically-acclaimed debut novel hit the shelves.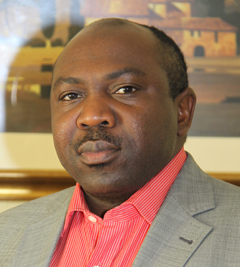 Musa Bako, 43, wrote 'I am Who God Says I Am' to arm readers with the "vital and necessary" tools to live a happy life.
Since its release, the 176-page title – published by Destiny Image Europe – has already sold close to 300 copies.
It has been praised by readers and critics alike, and now looks set to become one of this year's bestsellers in its genre.
Nigerian-born Musa has been the full-time pastor of the Victory Assembly Faith Centre in Sheffield, Yorkshire, since 2000.
The married father-of-three said he hoped the book would inspire people to fulfil their personal goals.
He said: "I am over the moon about the book. It's been a long, hard struggle but worth every minute to see it in print.
"I wrote the book to help people overcome life's obstacles and, with God's help, to live a happy and fulfilled life.
"I'm a strong believe in His power, and I hope I am Who God Says I Am will provide readers with enlightenment and self-belief."
Musa has no formal writing background, but has written articles and blogs on similar topics for some years.
He began drafting I am Who God Says I Am earlier this year, but admits he was "not at all confident" that his scribblings would develop into a full-length title.
"I love writing and, as a pastor, I write sermons all the time. Yet this was the first time that I really put pen to paper in a bid to complete a title of this length," he said.
"Before I knew it, the word count grew and the book grew in size to 176 pages."
Musa contacted leading publishing house Destiny Image Europe and, against the odds, was signed up on the spot.
The title was soon printed, and went on sale to the public priced £8.99 earlier this month.
It has now become something of a phenomenon, and its popularity is growing on a daily basis.
Musa has a formidable fan base – which include his congregation – and is cultivating a social media presence.
Remarkably, the church leader has more than 3,000 friends on Facebook, and hundreds of followers on Twitter.
"I just want to reach people in as many ways as possible, I hope my book encourages people to continue to find their purpose in life, as I believe this is Gods will," Musa said.
He added: "Only a few people discover their purpose, turn it into passion, and fight for it like they do not have any other option. These are the people who reach greatness."
Yesterday, Musa revealed he is already "well on his way" to completing his second book, 'The Eternal Priesthood of Jesus and Our Victory over Satan' – due for general release next year.
A spokesman for Destiny Image Europe said: "Musa is one of those rare authors whose passion and committment to Christ is reflected in his writing.
"We are delighted to be involved in Musa's career as an author, and look forward to publishing his second title next year."
I Am Who God Says I Am is available now, priced £8.99, from www.amazon.co.uk.