Nina Gaskell's "African Fusion Cooking" released
17 February 2011. Talented cook and grandmother of three Nina Gaskell, 67, is gracing readers with her new, unique book "African Fusion Cooking".
This is a unique tour for the taste buds that presents a wealth of delicious dishes infused with the distinctive flavours, textures and ingredients of the Africa Nina knows and loves.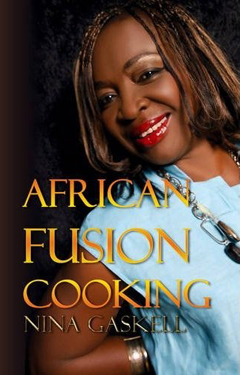 "African Fusion Cooking" gives a fresh, novel take on global cuisine as Nina displays culinary expertise in her collection of explosive recipes gained from experiences on her world travels.
The book is a is a vibrant, melting pot of Nina's creative recipes blending influences alongside ingredients from Asia, USA, Europe and UK strongly infused with African cuisine.
Born in Calabar, Nigeria, Nina has lived in the UK since 1963 and currently cooks from her home in Dartford, Kent.
Commenting on her cookbook Nina said: "My recipes are for everybody who loves the thrill of trying new tastes and flavours. I hope my book will help bring African food into the mainstream, as Chinese and Indian cuisine has gone before it."
Never one to hold back on experimentation, the author has created a mouth-watering array of starters, mains and desserts that give a new spin to well-known meals, incorporating African staple foods such as black-eyed beans, coconut milk, okra and sweet potatoes, as well as egusi seeds and plantain – one of the most versatile fruits around.
Written with Western appetites in mind and ever-mindful of the purse strings, "Africa Fusion Cooking" presents over 100 flavoursome, colourful and easy-to-follow recipes that will enliven mealtimes and dinner parties without breaking the bank.
Nina explained how she has filled a gap in the cookery market: "Having read lots of cookbooks and looked at cookbooks round the world, I couldn't find any which gave African recipes and explained the various vegetables and other items used in African cooking. So I decided to write one to fill the gap, particularly for those Europeans who increasingly see these exotic vegetables and fruits in their local shops and don't know what to do with them.

"I am blending African and other worldwide ingredients with European ones to suit Western tastes, and also to show African people how their staple ingredients can be used in new and interesting ways."
Nina's recipes are original. "Virtually all of these have been invented by me, they're unique and you won't find them in any other recipe book," she said.
Nina's signature dish is her take on the English Shepherd's Pie where she substitutes black-eyed beans and sweet potatoes topped with cheese for the standard mince with potato mash. Her daughter has her own desert; Ivy, named after her, which is Nina's experimental twist on the bread and butter pudding. Nina uses sweet eating apples, sesame seeds topped with ice-cream and it is a staunch favourite of her grandchildren.
Her travel expeditions took Nina to Krabi, Southern Thailand where she had a lengthy cooking session rustling up her own recipes with the resort's chef.
Coming across unusual ingredients on her travels was another experience for Nina, so what was the most unusual ingredient she came upon? "Kadhu (or Kaddu) is a kind of light green Indian pumpkin or squash. It is great stir fried with herbs and served as a side dish," she said.
Nina shared her secret for cooking an amazing dish: "A good balance of all the ingredients – not too heavy, not too light and a variety of cooking methods, i.e. not all fried, etc."

Tantalising, experimental, tasty and a colourful journey of new discoveries can be found within the cover of Nina's new cookbook: "African Fusion Cooking" published by Pen Press.
The book is available at Amazon.co.uk, Waterstones.co.uk and all major book stores, priced at £11.99.
For further details you can visit www.africanfusioncooking.com.