Maciej Szukala wins 'Diana Award' for selfless contribution to the welfare of migrant families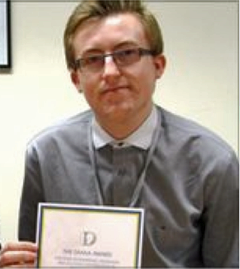 19 January 2011. First the 'Young Citizen award' in 2010 to reward him for his commitment and good citizenship; now the Diana Award to commend him for his outstanding community work with migrant familes: 16-year old Maciej Szukala is proving how an exceptional young person can make a difference in the lives of many.
Originally from Poland, Maciej came to North Wales when he was 11, unable to speak English. This was an isolating experience and he was bullied.
Instead of living this experience passively, he soon decided his mission was to help fellow migrants suffering his same problems, on the strength of his own personal experience in overcoming them.
Inside his school in Wrexham, he assisted other students in the English as an Additional Language (EAL) programme; outside, he helps refugees and migrants in his area working with the Red Cross.
Besides the two national accolades, Maciej has a long list of achievements including being pupil deputy head at Rhosnesni High School, young ambassador for the International Eisteddfod in Llangollen, Children's Commissioner for the UN and Young Enterprise Achiever of the Year for North Wales.
"I try to help others to make their lives better. I don't want people to sit in the corner. Use your skills and do as much as possible. Sometime people are embarrassed. I would say don't be ashamed of what you are doing, just do it," he said at the award ceremony for the RIBI Young Citizen 2010 winners.
Maciej, who is now studying business at West Cheshire College, was nominated for the Diana Award by Gareth Hughes, the head teacher of his former school, Rhosnesni High.
The Diana Award is a lifetime honour presented to young people who make a sustained, selfless contribution to their community, and who demonstrate exceptional personal qualities. It encourage exceptional young people to change the world and build a better society for all.
"I try to act as a motivator. It makes me happy when others want to do their best," said Maciej when he received the award.
Mr Hughes said: "As a school we are extremely proud of Maciej. He arrived as a Year 8 pupil from Poland with no English whatsoever. He quickly acquired the language but saw that a lot of his fellow pupils were struggling and wanted to help them. We have an English as an Additional Language (EAL) programme and Maciej was very helpful with those children. As a result of his work with migrant communities outside of school, he was given a Red Cross award. He was also my [pupil] deputy head in Year 11 and was actively involved in the youth parliament, the school council and the eco-committee. He is a complete all-rounder."
"I was of the opinion that Maciej has done so much for the school that we needed to acknowledge it," added Mr Hughes.
Read more, from the Polish perspective, on the article published on The Polish Observer: Maciek Szukala, a Pole who changes Poles.