Ceremony to take place on November 8

29th October 2010: Women undertaking inspirational work are to be honoured for their contribution in various fields on November 8.
The CEO of an online healthy food delivery business; a fashion designer who had privilege to have tea with former South African President Nelson Mandela; and the business development manager for Media Trust, are among some of the women announced as finalists in the 2010.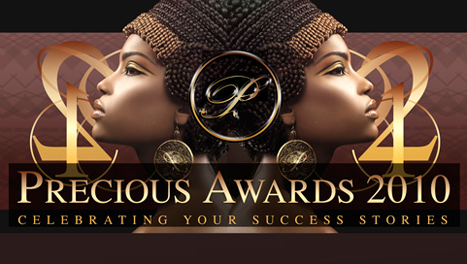 The 'precious awards' was founded to celebrate the achievements of inspirational entrepreneurial women of colour who are running businesses in the UK. The Awards are about recognising success and inspiring other women of colour to launch their own business.
The 'Precious Awards' ceremony, to celebrate achievements of inspirational women of colour in business and leadership, is scheduled to be held at The British Library, the event's headline sponsor. The awards celebrate success stories of women in diverse fields.
Amongst those being honored are women from the creative industries and social enterprise, with a new category introduced this year to honour tremendous contribution made by women of colour in the blogging community.
Finalist Lydia Frempong said being nominated among wonderful women was truly inspirational, and to be recognised for contributions to workplace was the biggest honour.
Foluke Akinlose MBE, founder of Precious said it was proud moment to celebrate their achievements.
Since its launch in 2007, the Precious Awards have attracted support from David Cameron, Gordon Brown, Nick Clegg and Baroness Amos.
Winner of the Precious Young Entrepreneur of the Year Award, 2009, Jessica said it was always great to win any award, but winning a precious award was valuable indeed.
Jessica Elliot, CEO, J's Dance School, said the award has opened so many doors for her and has allowed her to gain much needed exposure for her business.
Peter Holbrook, CEO of Social Enterprise Coalition, said the enterprise was delighted to be sponsoring the Social Enterprise Business of the Year award at this year's Precious Awards.
There are many inspiring black and Asian women entrepreneurs running successful social enterprises across the UK and helping to make life better for their local community.
Clare Harris, Business Engagement Manager, British Library, said they were delighted to be hosting the Precious Awards 2010. The library was passionate about supporting entrepreneurs in all their diversity; these awards give them a chance to celebrate the achievements of some truly inspirational women. Tickets for the event; which takes place on November 8, at The British Library are available at: www.preciousawards.com

The finalists are:
Start-Up Business of the Year — Sonia Evelyn (Evelyn Products), Janet M Banks (Janet Mohapi-Banks) and Careeta Robert-Green (Born with a Gift)
In Service Business of the Year — Diahanne Rhiney (15 Degrees), Geeta Sidhu (Nosh Detox) and Jo Sealy (To Market)
Creative Business of the Year — Nana Fosu (Fosuism), Geraldine Mattis (Geraldine Mattis Design) Ola Amoako, (Urbantopia) and Bunmi Olaye (Bunmi Koko Ltd)
Social Enterprise Business of the Year — Vanessa Sanyauke (The Rafiki Network), Lauren Craig (Thinking Flowers) and Marcia Hutchinson (Primary Colours)
Leadership within the Workplace — Lydia Frempong (Business Development Manager- Media Trust), Sonia Dixon (MBE, Adult Library Services Coordinator – Walsall Libraries) and Farida Anderson (MBE, Chief Executive, Partners of Prisoners).
Young Entrepreneur of the Year — Careeta Robert-Green, Bunmi Olaye and Lauren Craig
Blogger of the Year — Erica Rutherford (Harlem Loves), Bim Adewunmi (Yoruba Girl Dancing), Susan Younis (Punch Bowl), and Alice Gbelia (Catch a Vibe)