'Cook in Boots' awarded the Gourmand World Cookbook Award for the UK's Best First Cookbook.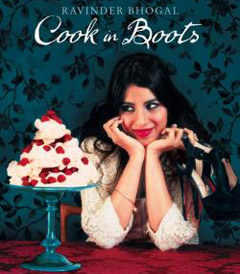 23 December 2009: The Kenyan-born food writer and stylist Ravinder Bhogal's debut book has bagged the Gourmand World Cookbook Award for the UK's Best First Cookbook.
'Cook in Boots' has over 150 irresistible and easy dishes to dress up, dress down or simply kick off your heels and indulge yourself with. Greed has never been so fashionable!
With Bhogal getting the award for 'Cook in Boots', she is now in the race for the title of the World's Best First Cookbook at the Paris Cookbook Fair on February 11, 2010.
Ravinder Bhogal is a beauty and fashion journalist by trade who has always loved cooking.
Her passion for 'real' cooking and demystifying ingredients won her Gordon Ramsay's praise when she won the 'new Fanny Craddock' award on his television programme, 'The F Word'. She has also cooked up a storm on 'Market Kitchen' and BBC radio, and filmed a successful two-part food documentary for BBC2, entitled 'The Great British Curry Trail', and contributed to popular cookery TV shows including 'Market Kitchen' as well as BBC radio.
The combination of Ravinder's passion for 'real' cooking and her uniquely modern style has made her the most exciting new face on the British cookery scene. Cook in Boots is her first book.
This luscious, sophisticated, you-want-to-eat-the-food-off-the-page cookbook launches an exciting new face in the world of cooking. Ravinder has a huge appetite for good food (and unhealthy addiction to high heels). She understands that modern women need a new kind of cookbook that caters to their moods as well as their busy lifestyles, and be accessible and fun.
Cook in Boots is divided into 12 chapters offering a simple, tasty and effortless recipe for every capricious, delicious one of you: / Working It 9 to 5: Work to Eat and Live to Eat / Food Rehab: No Need to Go Cold Turkey / Fork Me, Spoon Me: The Food of Love and Rude Food / Hard-up Food: For when you've spent all your lolly on your Louboutins / Meet the Parents and Other Situations When You Should Just Let the Food Do the Talking Whether you're a fashionista, career girl, wife, slob, home bunny, disaster zone or Queen – Ravinder will tantalise your tastebuds and your inner fashionista with recipes like Breakfast Burritos with Chorizo and Scrambled Eggs, Butterflied Leg of Lamb with a Spicy Yoghurt and Herb Crust, Love Apple Tartlets with Feta and Bitter Chocolate and Raspberry Popsicles.

Bhogal's achievement is significant as the Gourmand World Cookbook Awards feature around 26,000 books from 136 countries.