The expatriate to Britain was one of the 96 victims of the tragic flight to Katyn forest 16 April 2010. Ryszard Kaczorowski was among the 96 victims of the tragic flight to Katyn forest on 10 April 2010, when the plane Tu-154 crushed near Smolensk killing Polish President Lech Kaczynski with his wife and other highest rank officials on board.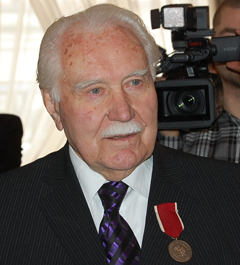 He was the sixth Polish President-in-exile and was appointed honorary knight of the Order of Saint Michael and Saint George in Britain.
In spite of his age, 90, this energetic and full of life man had so many plans ahead.
Born in Bialystok (near the Belarus border) in 1919, he was brought up in a patriotic atmosphere. Before WW2 he was a scout instructor. Scouting was the passion of his life. During WW2 he organised Szare Szeregi (Grey Ranks), an underground Polish Scouting Asssociation, which actively resisted and fought German occupation until January 18, 1945. On July 17, 1940 he was arrested and sentenced to death for anti-Soviet activities. He waited 100 days for his execution. However, his sentence was commuted to ten years hard labour. When Hitler attacked Stalin in 1941, Kaczorowski was let free. He also served in the Italian campaign in 1944-45, including the battle of Monte Cassino.
After the war he chose the life of exile and worked in Britain as an accountant. He also became involved in creating the Scouting movement, took part in Polish organisations and was involved in expatriate political life of Polish exiles.
In 1986 he was appointed a minister in the Government-in-exile and in 1989, after the death of the President Kazimierz Sabbat, he became the President.
'He used to impress Polish community with his great manners, intelligence and an unusual sense of humour,' says Janusz Mlynarski, chief editor of the Polish weekly The Polish Observer .
'When he turned 90 last year it was hard to believe that this energetic and standing firmy upright man was so old,' Mr Mlynarski adds.
He had many plans and new ideas, and always believed he would realise them, although he was aware his earthly road was coming to an end. Nobody supposed his end would be so tragic. He left a wife and two daughters.
by Monika Rudzińska