Leymah Gbowee
'prays all devils back to hell'!
07 October 2011. This year's Nobel Peace Prize has been divided in three equal parts between three women: Liberian President Ellen Johnson Sirleaf, Liberian peace activist Leymah Gbowee and Tawakkul Karman, a leading figure in Yemen's pro-democracy movement.

The Norwegian Nobel Committee said that the women won the prize "for their non-violent struggle for the safety of women and for women's rights to full participation in peace-building work."
"We cannot achieve democracy and lasting peace in the world unless women obtain the same opportunities as men to influence developments at all levels of society," the Committee added.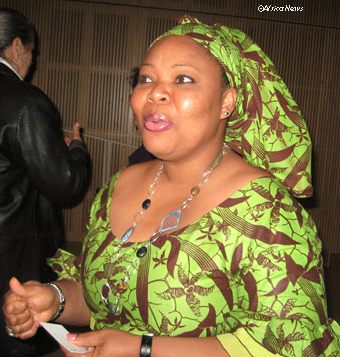 Ms. Johnson Sirleaf is Africa's first democratically elected female president. Since her inauguration in 2006, she has contributed to securing peace in Liberia, to promoting economic and social development, and to strengthening the position of women.
In the most trying circumstances, both before and during the "Arab spring", Ms. Karman has played a leading part in the struggle for women's rights and for democracy and peace in Yemen.
Ms. Gbowee is the Executive Director of the Women Peace and Security Network Africa, based in Accra, Ghana, and a founding member and former coordinator of the Women in Peacebuilding Program/West African Network for Peacebuilding (WIPNET/WANEP).

In the face of a seemingly insurmountable challenge, putting an end to the civil war that was tearing apart Liberia, Leymah harnessed her faith, strength, brilliance, stamina, femininity and courage to take action in a completely new, human and unexpected way.
Among her achievements, she mobilized Christian and Muslim women in a collaborative resistance movement that was able, through sit-ins and other acts of resistance, to get President Charles Taylor to meet with rebel groups at the peace table in Ghana and eventually agree to peace terms, officially bringing to an end the bloody 14 year civil war in the country.
During the civil war in Liberia, 250,000 people died, one million became internally displaced, 500,000 became refugees.
"Rape and other forms of violence were prominent features during this war," Ms. Gbowee said at the Ara Pacis Initiative on Peace and Reconciliation Conference held in Rome on 2nd December 2009.
Recalling the atrocity of the war, Ms. Gbowee who was only 17 when the war broke out said: "I moved from a normal 17 year old in a few hours to a caretaker of an entire family. I also moved from a normal 17 year old with all the teenage challenges to a very angry young woman, into an even angrier woman as I grew up. My anger brought me to a place in which I had to critically decide on which side of the war and conflict spectrum I would be."
She, however, realised that her anger was not taking her anywhere. The question she had to ask herself was: "Do you want to be on the far left as a perpetrator, or do you want to be constantly in the middle as a victim, or do you want to be on the right as a victor?"
"I chose to be a victor," she said.
The roles we play in a conflict or war depend on our decision on which side we want to be, Ms. Gbowee said, adding that "Relationships and communities can only be created when individuals choose the path of peace and positive engagement."
In recognition of her role in the Liberian Peace Process, the Women's Leadership Board of the Kennedy School of Government, Harvard University gave its 2007 Blue Ribbon Award to her. Gbowee has also received numerous other honors such as that of The White House Project, the Gruber Prize and the Crystal Award for Peace Building.
Ms. Gbowee is a protagonist in Tribeca Film Festival 2008's Best Documentary, "Pray the Devil Back to Hell". This is an extraordinary story of a small band of Liberian women who – armed only with white T-shirts and the courage of their convictions – came together in the midst of a bloody civil war, took on the warlords, and brought peace to their shattered country. "Pray the Devil Back to Hell" reconstructs the moment through interviews, archival footage and striking images of contemporary Liberia. It is a compelling testimony to the potential of women worldwide to alter the history of nations.
At the Ara Pacis Initiative Peace Conference, Ms. Gbowee appealed to all to be courageous and to "take the path of a true victor, the path of positive engagement."
Read her meditations on the importance of forgiveness and reconciliation laid out in that occasion: MEDITATIONS.
The Norwegian Nobel Committee hopes that the prize to these three women "will help to bring an end to the suppression of women that still occurs in many countries, and to realise the great potential for democracy and peace that women can represent."
By Stephen Ogongo Ongong'a