HC comes to her rescue after Children's Legal Centre takes her case to court

21st June 2011: She was trafficked into England when she was just five. For nothing less than a decade, she remained a hidden domestic slave. But now, the eighteen-year-old girl, 'Y', is celebrating her future after the Children's Legal Centre won a legal battle against her local authority in the High Court.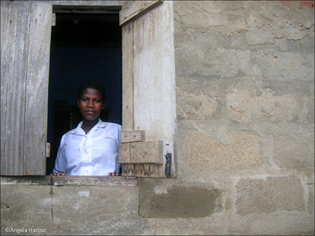 'Y' was born in Nigeria and brought into England around the age of five to be kept as a domestic slave. She still doesn't know who her birth family is and only knows her date of birth because she saw it written down in the house where she grew up in England.
Denied education, not registered with a GP and given limited access to the outside world; her first memories are of neglect and forced domestic work before she was sold on to another family when the people she thought were her parents left England.
She wasn't told she was being sent to a new house, she was simply delivered there. When she arrived she was given her own room, but was made to sleep on the floor. She had to do all the work. She cooked the meals, cleaned, and looked after the children. She sometimes helped with the shopping on the odd occasion that she was allowed to leave the house.
This systematic abuse continued for years and 'Y' suffered regular beatings when her work did not meet the highest standard. She wanted to leave, but she believed the police might catch her and throw her in prison or send her back to Nigeria – she was very scared about what would happen if she left.
"How could this happen?" says Carolyn Hamilton, Director of the Children's Legal Centre. "Like the Victoria Climbié case, 'Y' slipped through the net. 'Y' lived in England for 10 years without anybody noticing that she was a young child who didn't go to school nor was she registered with a doctor.
"She was treated as a servant and not as a child of the family. This was despite the fact that she took and picked up the family's young child from a nursery every day when she was no more than 12 and attended church at times with the family."

One night, when life finally became unbearable, 'Y' slipped out the back door and quickly fled onto the dark London streets with just a bag of clothes and a small amount of money.

A frightened and disheveled 'Y' was finally picked up by a caring Nigerian woman who found her sleeping rough.
The local authority involved, the London Borough of Hillingdon, at first accepted 'Y' was a child and placed her in foster care and enrolled her in school.
After about eight months the local authority decided to dispute her age, stating she did not have documents to prove her date of birth and that a dental assessment concluded she was older than she had claimed.
They concluded at an age assessment that she was three years older than her claimed age of 16 at the time and was therefore an adult. 'Y' was told her foster placement would be terminated and she would no longer be entitled to any support or accommodation from the local authority children's services.
'Y' was referred to the Children's Legal Centre, a national charity, which took this important case to court and worked with 'Y' to overturn the decision. The legal representation was funded by legal aid.
The High Court decided on 15th June that 'Y' had been a child of 16 at the time of the age assessment.
Commenting on the judgment handed down today, Danusia Brzezina, the Children's Legal Centre solicitor who represented 'Y' stated that 'this is a wonderful outcome for 'Y'.
She is thrilled. Regrettably this is one of all too many cases of children being wrongly age disputed in the UK, because of this 'Y's life was put on hold. She would now like to get the appropriate support from the local authority, so that she can move on from her past".

Now aged 18, 'Y' is hoping to study childcare at college.

'I am so pleased that something has finally worked out for me, with the help of the Children's Legal Centre', said a relieved 'Y'.

"For once in my life I feel like I have an identity, I'm looking forward to my future, now that I'm able to put the past 18 years behind me. I hope this will encourage other young people to stand up for themselves.'