The refugee world's highest honour this year goes to Yemen's Society for Humanitarian Solidarity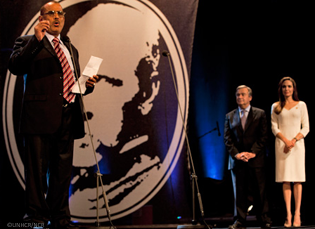 04 October 2011. UNHCR paid tribute in a lavish, televised, ceremony in Geneva on Monday night to the 2011 Nansen Refugee Award laureate, Nasser Salim Ali Al-Hamairy, founder of Yemen's Society for Humanitarian Solidarity (SHS), and his dedicated staff of 290 for their extraordinary work for refugees since 1995.
The prize – the refugee world's highest honour – is given annually to a person or group for outstanding services in supporting refugee causes. It was awarded this year to SHS on account of their "dedicated service to providing life-saving assistance to thousands of refugees and migrants who arrive on the shores of Yemen every year" after crossing the Gulf of Aden by smugglers' boats.
UN High Commissioner for Refugees António Guterres and UNHCR Goodwill Ambassador Angelina Jolie, together with NRCs Secretary General Elisabeth Rasmusson, presented the Nansen Refugee Medal to SHS founder Al-Hamairy.
"I do think they deserve the recognition of the international community," High Commissioner Guterres said, referring to the commitment of SHS staff, who comb the Yemeni coastline year round, pulling people from the sea and helping them find safety and assistance.
UNHCR Goodwill Ambassador Angelina Jolie added her own praise, highlighting the courage of individual Yemeni aid workers. "The staff of SHS often risk their own lives to save others — rescuing people from the waves in rough seas and working in extremely volatile security conditions", she said, with emotion. "Their devotion to saving refugee lives is extraordinary."
NRC Secretary-General Elisabeth Rasmusson said, "The refugee crisis in the Horn of Africa is one of the largest in the world, and the situation is further worsened by famine. NRC pays tribute to SHS for its courageous efforts in easing the plight of Somali refugees".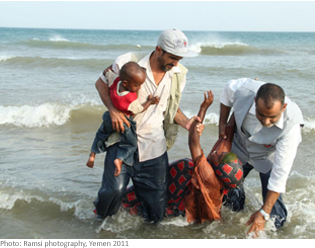 "We never expected to be awarded with such a prestigious prize, and we appreciate this recognition of our hard work. This motivates us to increase our efforts towards helping those in need wherever they are." Al-Hamairy also appealed to the international community "…to move quickly in addressing the conflict in Somalia and restoring security and stability to ensure that the people can enjoy life and feel reassured like people in other nations around the world; so they do not feel compelled to take such great risks on the high seas." More than 120 people have lost their lives trying to reach Yemen so far this year.
The ceremony, hosted by former British politician and BBC reporter Sir Martin Bell, included live performances by popular Norwegian musician Sivert Hoyem and by Colombian rockstar and Grammy winner Juanes, a humanitarian and musician who has helped spread awareness about the suffering of hundreds of thousands of forcibly displaced people in his country, including indigenous people. Somali sister band "Sweet Rush", the first female Somali artists to sign a record deal with a major American label, also performed, as they did in 2010.
The Nansen Refugee Award was created in 1954 in honour of Fridtjof Nansen, a Norwegian explorer, scientist, diplomat and politician who in the 1920s became the first international High Commissioner for Refugees.
It is given annually to an individual or organization for outstanding work on behalf of refugees and consists of a commemorative medal and a US$100,000 monetary prize donated by the governments of Switzerland and Norway. The winner can donate spend the funds on a project approved by the Nansen committee.
Past winners include Eleanor Roosevelt, Tanzania's late President Julius Nyerere, King Juan Carlos I of Spain, Graça Machel, late Italian tenor Luciano Pavarotti and last year's winner, photographer Alixandra Fazzina.
A number of humanitarian organizations, and partners of UNHCR, have also won the award, including the League of Red Cross Societies. Médecins Sans Frontières, Handicap International and the UN Volunteers. In 1986, the Nansen went to the people of Canada.
The ceremony was made possible thanks to UNHCRs partners for the Nansen Refugee Award program: he Swiss and Norwegian governments, the Canton of Geneva, the City of Geneva, the IKEA Foundation and the Norwegian Refugee Council.
UNHCR and the Norwegian Refugee Council (NRC) have partnered to make the Nansen Award Ceremony a televised event to raise global awareness of the challenges refugees face.