"24 hrs Without Us – a Day without Migrant Workers" – "24 Ore senza di noi, la giornata senza immigrati"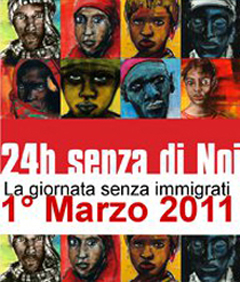 Tuesday, 22 February 2011. The second general strike of foreigners in Italy will be held on 1st March 2011. The strike titled "A day without us" is organised by a movement called "1st March 2011".
The first strike of foreigners in Italy was held last year. It was organised by a group formed on Facebook which gradually gained support of associations of foreigners throughout the country.
That group has now turned into "1st March 2011" movement that is organising this year's strike. The movement is open to people of all races, gender, faith, education and political leanings, immigrants, descendants of immigrants and native Italians.
"We are brought together by awareness of the importance of the social, cultural and economic contribution of immigration to our country. We are outraged by the smear campaign against foreigners in Italy, which has led to a barbaric, racist atmosphere and the adoption of discriminatory laws which are far from the principles and the spirit of our Constitution," says the movement.
Ms. Cécile Kyenge Kashetu, spokesperson of "1st March 2011" movement said that numerous activities will be held on that day throughout the country.
The strike will take place in different forms including abstention from work; shopping strike; demos in Squares; meetings to discuss the issues affecting immigrants, etc.
Since yellow is the official colour of the movement, on 1st March preparations are underway to fill the public squares with people wearing yellow T-shirts, headscarves, flags, etc.
Like last year, this year's strike will aim at fighting the Bossi-Fini Immigration Law and institutional racism. Ms. Kashetu said that the Bossi-Fini Immigration Law makes immigrants vulnerable to blackmail, favours their exploitation, racism and division.
Different trade unions including FIOM and USI have backed the initiative and will protect workers who will go on strike on 1st March.
In these days many immigrants are arriving in Italy from North Africa and Middle East where prodemocracy protests are on. Ms. Kashetu said that this year's strike will also be dedicated to such people who are fighting for democracy and freedom of movement. The right to emigrate, the movement says, is recognized by the Universal Declaration of Human Rights. "Human history is the history of migrations, without which there would have been no civilization process in the world and development of cultures."
The general strike of foreigners aims at highlighting the fact that foreigners are individuals with ideas, feelings, interests and desires.
It also aims at making the country hear the voices of foreigners and feel how the country would be without them.
The strike calls for recognition and appreciation of the daily toil of foreigners who are committed to work in Italy and for the country, often under very harsh conditions. Most often their basic human rights are violated.
"We reject stereotypes, racist laws and measures, institutional anti-immigrant campaigns, the use of discriminatory terms and images," the movement says, adding that foreigners "are hardworking people who perform essential tasks for the maintenance of a complex and articulated society like ours."
By Stephen Ogongo Ongong'a

CLICK HERE TO DOWNLOAD A DOCUMENT EXPLAINING HOW TO PROTECT YOURSELF LEGALLY IF YOU'LL BE TAKING PART IN THE STRIKE ON 1ST MARCH 2011