Italy asks for 100m Euros from the EU to tackle the influx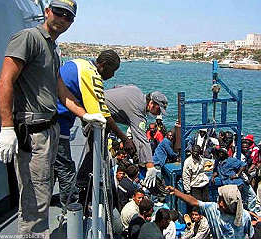 15 February 2010. Some 5,278 immigrants from Tunisia have arrived on the Italian island of Lampedusa since mid January, Home Affairs Minister Roberto Maroni has revealed. Sixty are women while 66 are minor children.
At least 2,644 immigrants have been taken to different immigrant detention centres, Mr. Maroni said, adding that 334 were taken over by Tunisian authorities.
Only a few of the immigrants applied for asylum because most of them would like to move to France, so they avoid lodging their asylum applications in Italy in order to avoid being forced to remain in the country, Mr. Maroni said.
The minister ruled out involvement of human traffickers saying that Tunisians running away from the country are people who buy boats and set off for the Italian coasts out of their own initiatives.
Mr. Maroni fears that as many as 80,000 people may arrive from Tunisia. He confirmed that tens of thousands are ready to leave Tunisia for Italy.
Without collaboration of Tunisian authorities, it is impossible to intercept boat migrants attempting to reach Italy and return them to Tunisia, the minister said.
Italy has asked for 100m Euros from the EU to tackle the influx.
Mr. Maroni warned that the influx of Tunisian migrants arriving on its shores could have devastating consequences for all European nations. It is in Europe's interest to fight the influx, he said.
Mr. Maroni urged the EU to put in place high level diplomacy involving heads of State and Government to tackle the influx.
Italy has expressed to Tunisian authorities its readiness to supply personnel, means and equipment to block mass exodus of Tunisians from the country.