Roundtable meeting with President Obama for Hispanic media confirms immigration as a top priority.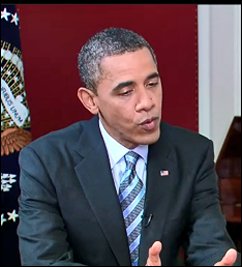 29 September 2011 – How many Latinos who supported Obama in 2008 chanting "sì, se puede" will turn in for him in next year's elections?
A key question, weighed down by disappointment for promises of immigration reform gone amiss.
'DREAM ACT', the comprehensive immigration reform outlined by the Obama administration, meant to "fix what's broken", including a pathway for legal status for the millions of illegal immigrants currently lining in the USA, has hitherto been only that – a dream.
Frustration for an immigration overhaul much campaigned for, but never carried out, opened President Obama's online roundtable yesterday with Hispanic media about issues in the Hispanic community.
"Our administration consistently has supported the basic concept that we are a nation of laws but we're also a nation of immigrants, and that immigrants continually have strengthened America's economy, America's culture, and that we have to create a system that works for all of us," said the U.S. president answering the first question.
" Now, to do that, we've got to get legislation through Congress. And in the past we've seen bipartisan support for comprehensive immigration reform. Unfortunately, over the last several years what you've seen is the Republican Party move away from support of comprehensive immigration reform," the President told reporters of Yahoo Español MSN Latino AOL Latino and Huffington Post Latino Voices.
"For those persons who are here, we have to make sure that we provide a pathway to earning a legal status in this country," the President told the U.S. Hispanic audience, reiterating the outlines of DREAM ACT.
"They have broken the immigration laws, so they may have to pay a fine, learn English, take other steps. But to create a pathway so that they can get out of the shadows and contribute to society in a more effective way is something that I consider to be a top priority. And we can do it in a way that is compatible with our tradition of everybody being responsible and following the law,"
Mr. Obama answered a total of 15 questions, selected among those sent by readers from the Hispanic media websites, in Spanish and English, from Facebook and Twitter, on Latino community issues.
One question regarded the status of Latinos in U.S. political life and whether with the prospect of a Romney-Rubio ticket, or a Rick Perry-Rubio ticket, or a Bachmann-Rubio ticket, he thought it was time for an Hispanic vice president, and maybe president after that.
"I am absolutely certain that within my lifetime we will have a Latino candidate for President who is very competitive and may win," replied the President. "You just look at the demographics. The Latino population is growing faster than any other population. You look at a state like Texas where it will, within my lifetime, be majority Latino. With numbers comes political power."
As millions of protesters in the streets of our major cities said five years ago as they demanded the attention of President Bush "Aquì estamos, y no nos vamos", reminds Gabriel Lerner, HuffPost LatinoVoices.
We are here, and we're not leaving.
by Federica Gaida


Related articles:
Obama's Dream Act to "fix what's broken"
"Our patchwork heritage is an enormous strength," Obama's speech to UK Parliament
Legal status is key to growth and prosperity of America, says White House

USA, Immigration detention overhaul at hand

Obama pushes for comprehensive immigration reform
Obama's immigration reform gets support of major US labour groups
Obama takes on the divisive issue of Immigration