Immigrants who are long-time residents but lack legal status have to have some mechanism over time to get out of the shadows, according to the US President. April 9, 2009. Consistently with the pledges made to Hispanic groups in last year's campaign, President Obama plans to begin addressing the country's immigration system this year, including looking for a path for illegal immigrants to become legal, a senior administration official said on Wednesday.
"He intends to start the debate this year," said Cecilia Muñoz, deputy assistant to the president and director of intergovernmental affairs in the White House, adding that Mr. Obama will frame the new effort as "policy reform that controls immigration and makes it an orderly system."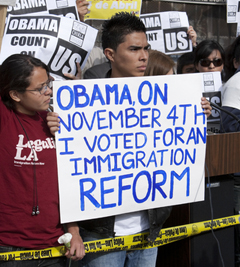 During his campaign, Mr. Obama pledged to make a comprehensive immigration legislation, including a plan to make legal status possible for an estimated 12 million illegal immigrants, be a priority in his first year in office.
Latino voters turned out strongly for Mr. Obama in the election.
Over the summer the President will convene working groups, including lawmakers from both parties and a range of immigration groups, to begin discussing possible legislation for as early as this fall, reports the New York Times.
In broad outlines, officials said, the Obama administration favors legislation that would bring illegal immigrants into the legal system by recognizing that they violated the law, and imposing fines and other penalties to fit the offense. The legislation would seek to prevent future illegal immigration by strengthening border enforcement and cracking down on employers who hire illegal immigrants, while creating a national system for verifying the legal immigration status of new workers.
No serious legislative talks on the issue are however expected until after some of Mr. Obama's other priorities have been debated, Congressional aides said, and debate is still under way among administration officials about the precise timing and strategy.
Just last month, Mr. Obama openly recognized that immigration is a potential minefield.
"I know this is an emotional issue; I know it's a controversial issue," he told an audience at a town meeting on March 18 in Costa Mesa, Calif. "I know that the people get real riled up politically about this."
But, he said, immigrants who are long-time residents but lack legal status "have to have some mechanism over time to get out of the shadows."
The White House is calculating that public support for fixing the immigration system, which is widely acknowledged to be broken, will outweigh opposition from voters who argue that immigrants take jobs from Americans, reports the New York Times.
Administration officials said that Mr. Obama's plan would not add new workers to the American work force, but that it would recognize millions of illegal immigrants who have already been working here. Despite the deep recession, there is no evidence of any wholesale exodus of illegal immigrant workers, independent studies of census data show.
Related articles:
Obama's Dream Act to "fix what's broken"
"Our patchwork heritage is an enormous strength," Obama's speech to UK Parliament
Legal status is key to growth and prosperity of America, says White House

USA, Immigration detention overhaul at hand

Obama pushes for comprehensive immigration reform
Obama's immigration reform gets support of major US labour groups
Obama takes on the divisive issue of Immigration