Her status as illegal immigrant was disclosed just before Obama's election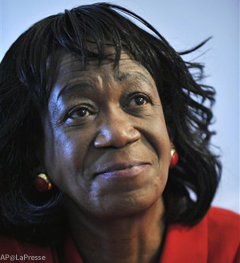 18 May 2010: Barack Obama's African aunt has finally emerged victorious in the long drawn legal battle for asylum in the US.
She has eventually been granted asylum, after an immigration court allowed her to stay in the country.
Among other grounds, Kenya native Zeituni Onyango, 57, had cited medical reasons to stay in the US. The complete basis for her asylum request was never made public. People who seek asylum must show that they face persecution in their homeland on the basis of religion, race, nationality, political opinion or membership in a social group.
Obama did not intervene for his aunt. She was found living in a housing project in 2008 after coming to the US in 2000. She was ordered out in 2004, after an asylum request was rejected, but she did not leave.
Onyango is the half-sister of Obama's late father. The decision came just about three months after immigration hearing ended without an immediate decision on asylum. But before the conclusion of the closed proceedings in US Immigration Court, Onyango testified for about two-and-a-half hours after entering court in a wheelchair with a cane across her lap.
Two doctors also testified in support of her case. They said she was suffering from Guillain-Barré syndrome. She now plans to apply for a work visa and can apply for a green card subsequently.
Her status as an illegal immigrant was disclosed just before Obama was elected in November 2008. Obama had expressed ignorance about his aunt illegal stay.