Speech in El Paso calls for comprehensive immigration reform: "Continued inaction poses serious costs for everyone".
11 May 2011. On Tuesday, in the blistering heat of the border town of El Paso, in Texas, US President Barack Obama delivered his latest speech on the urgency of a comprehensive immigration reform.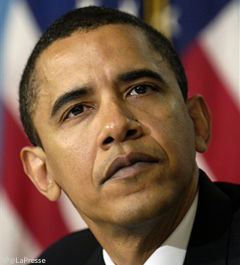 His electoral promise to address the issue during his first year in office went amiss, but the president's speech yesterday helped immigrants and immigration advocates start believing again that reform can be achieved by the end of his office.
"When an issue is this complex and raises such strong feelings, it's easier for politicians to defer the problem until after the next election. And there's always a next election," said President Obama, recalling how leaders of both parties have fallen prey on the immigration issue to the "usual Washington games".
President Obama called for those in Congress who previously walked away from discussion on reform in the name of enforcement to come back to the table.
"Under Secretary Napolitano's leadership, we have strengthened border security beyond what many believed was possible," said Pres. Obama. "They wanted more agents on the border. Well, we now have more boots on the ground on the southwest border than at any time in our history. The Border Patrol has 20,000 agents – more than twice as many as there were in 2004, a build up that began under President Bush and that we have continued.
"The most significant step we can take now to secure the borders is to fix the system as a whole", he said, pointing out that there is a growing coalition of leaders across America who don't always see eye-to-eye, but who are coming together on this issue. "
"There is a consensus around fixing what's broken," insisted the President, "Now we need to come together around reform that reflects our values as a nation of laws and a nation of immigrants".
The outlines of the "Dream Act", that is the comprehensive immigration reform the Obama administration proposes are:
1) the government has a threshold responsibility to secure the borders and enforce the law;
2) businesses have to be held accountable if they exploit undocumented workers;
3) those who are in the U.S. illegally have a responsibility as well. They have to admit that they broke the law, pay their taxes, pay a fine, and learn English. And they have to undergo background checks and a lengthy process before they can get in line for legalisation;
4) the outdated system of legal immigration needs to be improved. This means provide employers the way to legally hire the workers they can rely on. Help "the best and the brightest to not only study here, but also to start businesses and create jobs here," said Pres. Obama, noting that in recent years, a full 25 percent of high-tech startups in the U.S. were founded by immigrants, leading to more than 200,000 jobs in America. And finally, help families stay together.
"Our laws should respect families following the rules – reuniting them more quickly instead of splitting them apart. Today, the immigration system not only tolerates those who break the rules, it punishes the folks who follow the rules. While applicants wait for approval, for example, they're often forbidden from visiting the United States. Even husbands and wives may have to spend years apart. Parents can't see their children. I don't believe the United States of America should be in the business of separating families. That's not right. That's not who we are."
The President concluded on the Dream Act: "That's how we can ensure that in the years ahead we are welcoming the talents of all who can contribute to this country; and that we are living up to that basic American idea: you can make it if you try."
Read the complete text of the speech on the New York Times: Obama's Remarks on Immigration.
Related articles:
"Our patchwork heritage is an enormous strength," Obama's speech to UK Parliament
Legal status is key to growth and prosperity of America, says White House

USA, Immigration detention overhaul at hand

Obama pushes for comprehensive immigration reform
Obama's immigration reform gets support of major US labour groups
Obama takes on the divisive issue of Immigration