From Europe "A stronger commitment to the protection of children in crisis areas"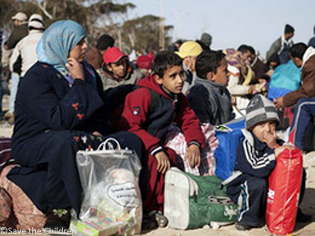 24 June, 2011 – An influx of around 40 thousand refugees arrived this year alone in the Italian islands of Lampedusa, Linosa and Lampione. Since January, 1,670 children landed, 30% of these only in May. About 10% are small children arrived with one or both parents; others are unaccompanied minors, from Tunisia and sub-Saharan countries, between 12 and 17 years.
These are the numbers of the emergency migration at the centre of the round table 'Lampedusa, Tripoli, Shousha: children and the crisis in North Africa. What protection?', sponsored by Save the Children, held in Rome this week.
Raffaella Milano, Italy Europe Programme Manager of Save the Children, said the North African emergency has "the face of many children: the young victims of the conflict in Libya, children who in Tunisia live for months in refugee camps in a sort of 'limbo' without knowing their future, those who attempt to cross the Mediterranean, often with tragic outcomes, the 'luckiest' of whom land in Lampedusa, but even there they are unlikely to find adequate accommodation".
"It is vital to strengthen efforts to protect children in crisis areas," concludes Milano, warning against the risk of disaffection and indifference on the part of media, institutions and individuals.
Save the Children calls for the intervention of European countries to face the emergency appropriately, providing adequate opportunity for the relocation of large numbers of refugees fleeing from Libya – well over 700 people pledged so far by some states.
In Europe – continues the non-profit organization – access to protection continues to be very problematic for those who are on the run.
EU Member States, and in particular Italy and other southern countries directly involved in arrivals, must continue to ensure access to their territories and all forms of protection available. Possible options include relocating within Europe those who have received protection in the countries of arrival, and technical support with regard to accommodation conditions and the management of asylum applications, both bilaterally between the countries through the Office European Asylum Support Office.
Moreover – again emphasizes Save the Children – specialised agencies must be guaranteed the opportunity to provide protection and assistance to migrants and, in particular, to the children among them: they should be able to deal with the identification of vulnerable groups, to identify and inform children about their situation, to deal with the procedures in place and the forms of assistance and protection provided, to trace family members to ensure the maintenance of contacts with parents or to allow reunion if in the best interests of the children themselves.
As of now, urges Saves the Children, "refuge should be given immediately to the around 450 children who after weeks are still in Lampedusa or in temporary transit centres, unsuitable to ensure their safety and security, and fully implement the procedures for the accommodation of unaccompanied minors approved by the Coordination Committee for humanitarian emergency. Supervision, by all relevant bodies, on the recruitment of children arrived by sea by illegal organizations should also be strengthened."
Finally, the duty of accommodation of unaccompanied minors – who are as such undeportable – must break away from the logic of emergency."