"Every day without reform is a day when 12 million hard-working immigrants must live in the shadow of fear."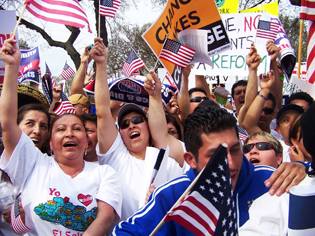 March 21, 2010. Vying for attention from the media gathered to report on the health bill vote, a festive crowd of tens of thousands of immigrants and activists, chanting "Yes we can" in Spanish and English, rallied in front of the Capitol in Washington on Sunday, to stress the urgency of what is possibly the next most important and contentious issue in the domestic agenda: the reform of the United States immigration system.
An overhaul of the United States immigration legislation was placed in the list of top priorities by President Obama during his electoral campaign. Ten million Hispanics came out to vote; 57 percent voted for Barack Obama on the basis of that platform.
During the first year of his presidency, Mr. Obama reiterated the urgency of reform on several occasions, promising he would move an immigration bill in Congress by early this year.
Focus on health care has stymied discussion on immigration, one of the stakes of the health bill being the acquisition of enough political strength to pass other priorities.
"If we fail at this," Representative Raúl Grijalva, Democrat of Arizona, considered for interior secretary with the Obama administration, recalled Mr. Obama saying, "it's going to be harder for us to pull the line on this other stuff. It is going to weaken our presidency."
After months of complacency, bearing with unprecedented numbers enforcement raids, the demonstrators, overwhelmingly Latino immigrants, gave a show of numbers in order to pressure President Obama into delivering on his electoral promises, once the health care bill passed.
Mr. Obama addressed the crowd via a videotaped message displayed on huge screens. "I have always pledged to be your partner as we work to fix our broken immigration system, and that's a commitment that I reaffirm today," Mr. Obama said, avoiding a specific time frame.
While pledging to help build bipartisan support, Mr. Obama warned, "You know as well as I do that this won't be easy, and it won't happen overnight."
The crowd, flying American flags overhead, was there to press for more, however, as speakers stressed, calling for an overhaul of the nation's immigration system and a path to citizenship for its 10.8 million illegal immigrants this year.
"We've been patient long enough. We've listened quietly. We've asked politely. We've turned the other cheek so many times our heads are spinning," Representative Luis V. Gutierrez of Illinois, leader of the push for immigration legislation within the House of Representatives, shouted, to roars of approval. "It's time to let immigrants come out of the shadows into the light and for America to embrace them and protect them."
"Every day without reform is a day when 12 million hard-working immigrants must live in the shadow of fear," said Representative Nydia M. Velásquez, a Democrat who is the chairwoman of the Congressional Hispanic New York Caucus.
"The angst and trepidation in our communities is unprecedented; this is our Selma," said Reverend Samuel Rodriguez, leader of the National Hispanic Christian Leadership Conference, the largest organization of Latino evangelical churches, comparing the mood among Latinos to the hard days of the civil rights movement. he said.
The overwhelming majority, Latinos used this platform to show their political muscle. "Wake up and smell the cafecito!" hollered Maria Rodriguez, executive director of the Florida Immigrant Coalition. "Latino workers, campesinos [farm workers] and families are here to stay. To be counted in the ballot box."
They were joined on stage however by members by leaders of Asian American organizations and smaller groups representing immigrants from countries including Haiti. 

The roster of speakers showed the degree to which immigrant-rights groups have broadened their coalition since their last major effort at a congressional overhaul of immigration failed in 2007.
An array of African-American leaders stressed how efforts by Latino leaders to reach out to African American constituencies, often concerned that Latino immigrants take their jobs, have been crowned by success.
Catholic leaders, who have long supported a legalization plan, were joined by evangelicals who have recently signed on to the effort.
The AFL-CIO trade union, which expressed reservations about the 2007 immigration bill, fearing that it did not protect workers' rights, has this year united with others to back the effort.
Ali Noorani, executive director of the National Immigration Forum and a leading organizer of the event, called for rallies in several cities on April 10, the last day of the Congressional recess. He said that immigrant groups would release a report card of every lawmaker showing where they stand on the immigration overhaul.
The historical vote on Health Reform is bound to give immigration activists more confidence in the Obama adminostration: his promises have been delivered thus far.
By Federica Gaida
Related articles:
Obama's Dream Act to "fix what's broken"
"Our patchwork heritage is an enormous strength," Obama's speech to UK Parliament
Legal status is key to growth and prosperity of America, says White House

USA, Immigration detention overhaul at hand

Obama pushes for comprehensive immigration reform
Obama's immigration reform gets support of major US labour groups
Obama takes on the divisive issue of Immigration