According to one of the organizers, at least 300,000 people took part in the demonstrations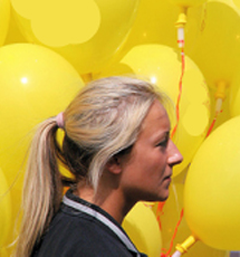 02 March 2010. Public squares throughout Italy were yesterday filled up with demonstrators wearing yellow T-shirts, ribbons, and carrying yellow balloons to mark Italy's first ever general strike of foreigners.
According to one of the organizers of the strike, at least 300,000 people took part in the demonstrations throughout the country.
The strike was organised by a group which was formed on Facebook. It gradually gained support of associations of foreigners in Italy, some trade unions and leftwing political parties including the Democratic Party.
The group called "1st March 2010 Strike of Foreigners", is composed of people of all races, gender, faith, education and political leanings, immigrants, descendants of immigrants and native Italians.
"We are brought together by awareness of the importance of the social, cultural and economic contribution of immigration to our country. We are outraged by the smear campaign against foreigners in Italy, which has led to a barbaric, racist atmosphere and the adoption of discriminatory laws which are far from the principles and the spirit of our Constitution," said the Manifesto for "1st March 2010 Strike of Foreigners".
The strike called for recognition and appreciation of the daily toil of immigrants who are committed to work in Italy and for the country, often under very harsh conditions, and whose most basic human rights are often violated.
"We reject stereotypes, racist laws and measures, institutional anti-immigrant campaigns, the use of discriminatory terms and images and, the misuse of calls to return to cultural and Christian roots to justify local and national policies of rejection and against reception of immigrants," demonstrators said.
Some of the placards carried by demonstrators read: "Issue Permit of Stay to all", "Renew permits in time", "Migration is not a crime", "Close all immigration detention centres", "No one is illegal", "Stop racism", "We are the new citizens", "We pay your pension", "No to institutional racism", "We are all citizens," etc.
While many rightwing politicians have been using anti-immigrant rhetoric, all recent studies have shown that Italy is increasingly becoming dependent on immigrant labour.
Latest statistics published by the Catholic Caritas Migrants foundation suggest that there are 4.5 million immigrants living legally in the country. They represent 7.2 percent of the population, and contribute 9,7 per cent of the country's gross domestic product.
The Bank of Italy estimated that in 2006 "resident foreigners accounted for 80 per cent of the growth in the labour force, with an increase of 173,000 economically active persons out of an increase of 209,000 in the foreign population aged 15 or more."
The Bank's report also showed that: "The participation of Italian women in the labour market may benefit from the growing presence of foreigners, especially foreign women, which enables the former to reconcile work with family responsibilities."
On 1st March immigrants were invited to either stay home or to boycott shopping for a day. Even though not many managed to abstain from work, the public demonstrations throughout the country succeeded to make the contribution of immigrants to Italy's wellbeing a key issue in public debates and media reports.