Short-term visa-free travel is meant to be a reward for democratic reforms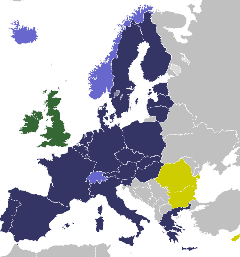 09 November 2010. By the end of this year, citizens of Albania and Bosnia-Herzegovina will likely no longer need visas to travel to most European countries.
The go-ahead to the final visa liberalisation was unanimously approved today by the European Council of Interior Ministers in Brussels, despite serious reservations among EU states and fears of a massive influx.
The visa-free privileges, which will come into force in mid-December, aim to endorse and encourage democratic reforms in the two nations and is seen as a first step towards official candidacy to the European Union.
"The visa-free regime is the best proof that reforms at home bring tangible benefits for citizens and progress in relations with the EU, said Stefan Füle, the enlargement commissioner.' We can build on this in order to further the reforms needed to bring the two countries closer to the European aspirations."
The privileges apply to short-term travel of up to three months through the borderless Schengen area and are reserved for holders of biometric passports.
The Western Balkan states Macedonia, Montenegro and Serbia had their visa requirements lifted a year ago. Kosovo is now the only Balkan country whose citizens still need visas to visit the Schengen area.
A surge in asylum applications last year, especially from Macedonia and Serbia, raised concerns on the part of France, Germany and the Netherlands about lifting visa requirements for Albania and BIH. But all 27 member states eventually accepted the European Commission's assessment that the technical conditions for visa-free travel had been met.
The European Commission will monitor the post-visa entries. If they are too many and followed by unfounded asylum applications, the Commission will take countermeasures, in agreement with Bosnian and Albanian authorities, which could eventually lead to the suspension of the liberalisation.
Cecilia Malmstroem, the European commissioner for home affairs, said, "It is of the utmost importance that Albania and Bosnia and Herzegovina continue to intensify their information campaign with the aim to properly explain to their citizens the meaning of short-term visa-free travel and what it entails, in particular warning against misuse for purposes incompatible with visa-free travel."