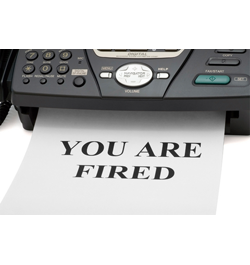 Redundancy is a form of being dismissal from a job and principally arises not because of any behaviour or inadequacy on the part of the employee (although these may be factors which employers will wish to take into consideration), but because of a business driven reason.
Redundancy is potentially a fair reason for dismissal, although if not handled correctly, can become a basis for a claim of unfair dismissal.
Most employees affected by redundancy become eligible to some form of payment.
When does redundancy arise?
Redundancy tends to arise in one of three circumstances:
– where a business is being closed down
– where a business is carrying on generally, but closing a particular place of work
– where the need of the business for employees to do particular work has diminished to the extent that those particular employees are surplus to requirements.
These reasons are specifically set out in section 139 of The Employment Rights Act 1996, which states:
For the purposes of this Act an employee who is dismissed shall be taken to be dismissed by reason of redundancy if the dismissal is wholly or mainly attributable to:
a) the fact that his employer has ceased or intends to cease:
– to carry on the business for the purposes of which the employee was employed by him, or
– to carry on that business in the place where the employee was so employed, or
b) the fact that the following requirements of that business have ceased or diminished or are expected to cease or diminish:
– for employees to carry out work of a particular kind, or
– for employees to carry out work of a particular kind in the place where the employee was employed by the employer,
It is generally also regarded as redundancy when a person's job is absorbed by other employees within the firm.
In most cases, employees who have been made redundant are entitled to a statutory redundancy payment, provided that they have at least two years service, calculated according to their age, gross weekly wage and length of service with the employer.
In addition to being for one of the three reasons set out above, a redundancy must also be shown to have been fair.
For this to be proved the employer must be able to show, inter alia, that:
– there were genuine grounds for redundancy and that these could be proved
– the employee was treated fairly in the selection process
– appropriate consultations were undertaken
– the employee received appropriate notifications and that the statutory procedures were followed
– consideration was given to the availability of alternative positions with the employer.
Published 26 June 2009.
by Anna Zdunczyk
Solicitor
Cartwright Adams Solicitors
The above article is meant to be relied upon as an informative article and in no way constitutes legal advice.
For legal advice regarding your case, please contact Cartwright Adams Solicitors on 0207 887 7550 for a Consultation with a Solicitor.
Tel: 0207 887 7550
Fax: 0207 887 7555
Email [email protected]
www.cartwrightadams.co.uk