Ethiopia, Somalia, Morocco and Afghanistan are emerging as Britain's new culinary kings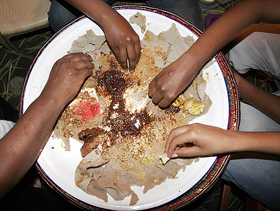 The Punjabi community catering to the gastronomic needs of UK residents through their restaurants may find it hard to digest. But, a fact emerging out of recent surveys is that dishes from Afghanistan, Ethiopia, Somalia and Morocco are emerging as Britain's new culinary kings.
Ever since the first batch of immigrants brought along with them the sharp and tangy spices for offering pleasure on a platter to the natives in their restaurants on the British shores, a perfect evening was considered synonymous with savoring spicy Indian and yummy Chinese dishes. In fact, picking up the dishes from the menu card was considered the height of international culinary sophistication.
Top on the British restaurant visitors' gourmet agenda were powerfully flavoured, Kashmir's favourite dish, "rogan josh". Also hot was sweet-and-sour pork.
The Thai and Sushi invaded the shores the mid-1990s, but the Indian foodstuff retained its flavour. But, now research suggests the British tastes are changing with the new era of exodus and global travel adding new dishes to the carte du jour.
Two recent news-reports suggest dishes from Afghanistan and Africa are tickling the taste buds like never before. Reports further suggest Sainsbury's has recently only recently introduced Moroccan, Afghan and Ethiopian-inspired foods to its ranges. The results have been delicious.
Sales of Moroccan green tea have also risen by a whooping 426 per cent in a year, while dried mung bean sales too have doubled.
Another survey by the market analysts Mintel has reportedly found a similar increase in interest in North African and Middle Eastern cooking.
In recent years, a number of Afghan restaurants have opened in London, where vast majority of Britain's Afghans live. The gentle spiced stews and flatbread, that makes Afghan cooking a source of national pride, is finding easy acceptance.
The reasons, though apparently heavy, are not hard to gulp.
Britain is home to a growing Middle Eastern and African diaspora. Many have set up their own restaurants. Mintel research also suggests holidaymakers, back in Europe from countries such as Morocco and Egypt, try reliving the taste of their trip.
The holidaymakers' rush has witnessed a 125 per cent increase in British tourists between 2003 and 2007. Otherwise also, immigrants from East Africa and Afghanistan now make up some of the largest groups of asylum-seekers to Britain.