Son of a lorry driver and hospital cleaner, Dhanda hopes to discourage BNP with his success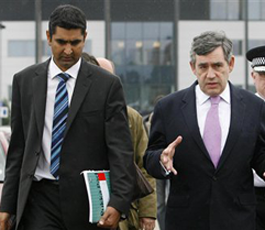 11 June 2009. For the first time, the British Speaker may be from an ethnic minority background; that too because of British National Party's two-seat success story in the elections.
Indian-origin MP and former minister Parmjit Dhanda says he decided to run for the centuries-old office after the election of two BNP members to the European Parliament.
"It is something that is so disturbing that I don't want to look back at this time in history as a time when I just stood by on the sidelines and watched," says Dhanda, adding he hoped his appointment would discourage the BNP, and inspire a new generation of people to go into politics.
A 37-year-old clean shaven Sikh, Dhanda hopes to succeed Michael Martin, who is to step down on June 21 as an MP after facing criticism over his handling of the MP expenses issue. The election takes place on June 22.
The Labour MP for Gloucester, Dhanda is soon expected to announce his candidacy for the 632-year-old post. His decision to stand is backed by Simon Woolley, director of Operation Black Vote, a non-government body that aims to get more ethnic minority involvement in British politics.
"Electing Parmjit as speaker would be a breath of fresh air and a break from tradition and the establishment," Wolley says.
Dhanda, who bemoaned the lack of Indian-origin ministers when he was replaced in a reshuffle last year, has written an email to all MPs ahead of the June 22 election saying the new speaker should be the "the interface between Parliament and modern Britain."
"Parliament is in crisis. Just a few days ago we saw the election of two members of the BNP to the European Parliament. But, I don't believe that the British people are racist," he said.
"It's too late for evolution and time for us to be brave. I believe that if we firmly shift the pendulum of power back to the public they are more likely to put their trust in us again.
"To put these changes in place we will need a Speaker who is comfortable in, and able to communicate with modern Britain."
In his email, Dhanda admitted he was not "an obvious choice" but added: "Until I see someone more likely to win who will fight for the causes I spell out here, I'll be in this contest."
The Punjabi MP, whose parents came to Britain in the 1960s, has strong working class roots: his father was a lorry driver and mother a hospital cleaner. Dhanda became a trade union organiser and local councillor before being elected to the Commons in 2001 and made junior minister for communities and local government in 2007.
Dhanda's modernising credentials are, however, undermined by the fact that in 2007 he voted to exempt Parliament from the Freedom of Information Act — which meant details of MPs' expenses could be kept secret.
Dhanda's expenses claims have so far proved uncontroversial. Others possibly in race are the Conservative MPs Sir George Young, John Bercow and Sir Alan Haselhurst, Labour's Frank Field, and Alan Beith and Sir Menzies Campbell from the Liberal Democrats.
Bercow and Sir George are thought to be the frontrunners. Bercow, who is not regarded warmly by the Tory high command, has attracted the support of many Labour figures.
By Monika