'India is a success story' despite poverty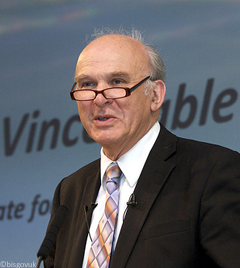 31 August 2010: Indians in the UK have a reason to cheer. Business Secretary Vince Cable believes 'India is a success story' despite poverty; and Britain's future lies there. He has carried this impression from his recent visit to India.
Cable, with first wife Olympia of Goa origin, has given a detailed account of his visit to India to the Daily Mail. It is titled: 'The week that revived my love affair with India – and convinced me that Britain's future lies there'.
Cable has written: `My fascination and affection for the country has been heightened by my admiration for the remarkable economic transformation that has taken place: a green agricultural revolution, an industrial revolution and an IT revolution all within half a century.'
Cable has asserted the citizens have moved on from poverty to modest prosperity; and the recent past has witnessed the creation of a vast pool of educated and ambitious talent. In India, a vibrant democracy is in existence and free Press has become permanent fixture.
He has added: `I don't want to be too starry-eyed: vast rural areas and a sizable percentage of the population of more than one billion remain wretchedly poor; conflicts based on caste, religion and class are barely contained in parts of the country. But, overall, India is a success story."
Going down the memory land, Cable recalled witnessing his first Test match with his father at Leeds when Vijay Manjrekar scored a century.
Cable said he first visited India 45 years ago as a student on an overland trek. It had a deep and lasting impression.
"I have returned many times as traveller, son-in-law, economic writer, business representative and parliamentarian".
Cable added Britain has been slow to be on familiar terms with the winds of change sweeping India over the years.
The two countries have shared not only strong history and language ties, but also a political system and cricket. Yet, trade has gone down to awful levels.
"A generation of young Indians is growing up looking to the United States for inspiration and higher education.
"To the extent that modern India has registered, beyond the remote telephone voice from a call centre, it is because of the Indian presence in Britain rather than the British presence in India'.
He went to quote the example of Indian investor Tata. He owned and was running what once was British Steel and British Leyland.