Discussion on immigration gets vigorous, and hotter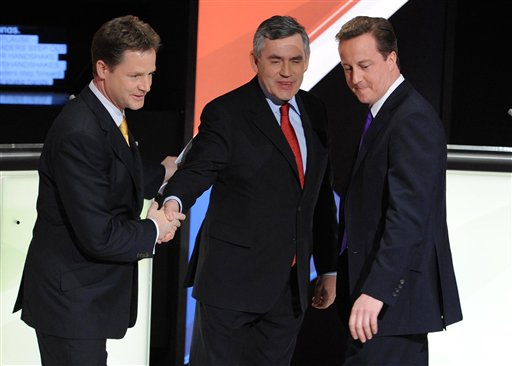 23 April 2010: The discussion on immigration is getting vigorous, and hotter.
A debate in Bristol saw both Gordon Brown and David Cameron get together to corner Nick Clegg over his plans to offer thousands of immigrants an amnesty.
Dubbing it as wrong policy, Brown said it would encourage people to come to this country thinking that at some point they would be legalised.
Brown said it would not be a deterrent on people coming to the country illegally. Rather, it would mean more and more people would come into the country.
He said their policy was to control and mange immigration. For the purpose, they had got a points system, which ensured no unskilled worker from outside Europe could come into the country.
Brown insisted they were gradually reducing the number of skills they required to come from abroad. Quoting an example, he said cooks and care assistants in future would not come from abroad; and are being trained up in Britain.
The Tory leader, on the other hand, blamed Brown for allowing 'lies' in Labour election leaflets. He asked Brown to pull back the literature claiming a Conservative government would cut benefits for the elderly, including free television licences, pension credits, the winter fuel allowance or bus passes.
On the issue of integration with Europe, Cameron said they have let too many powers go from Westminster to Brussels and they should take some of those powers back.
Cameron said he wanted them to be in Europe, but he did not want them to be run by Europe.
Cameron turned offensive after Brown accused him of being 'anti-Europe' and Clegg of being 'anti-American.
Cameron said: 'What you are hearing from the other two is, frankly, do not trust the people. Do not ask them when you pass powers from Westminster to Brussels.
Cameron said the public did not want an in-out referendum, as the Lib Dems have promised.
Clegg, meanwhile, said it was time for a 'fundamental debate' on Europe. He said apparently they punched above their weight when they stood together in Europe.'