Clothes can tell if it's a sham wedding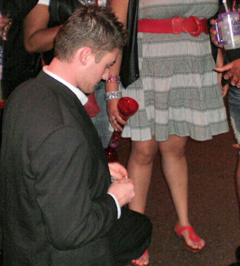 30th March 2011: What's there in clothes? Everything!

In fact, the outfit some of the couples have been wearing during their sham weddings have actually been giving them away.
In the recent past, couples have been caught after the groom walked into the church donning a cheap suit with the price tag still attached.
This is not all. A bride too came down the aisle in leggings.
The UKBA's regional director for Yorkshire Jeremy Oppenheim indicates looks are a giveaway, but not the only parameter. The officials at wedding venues cannot rely on looks alone to identify criminals, he says.
People might turn up in jeans and tracksuits, but they are not going to make a judgment on that basis alone, he says, adding they make a judgment based on what they think an individual's aspiration is, and whether they think that person is marrying for reasons other than love.
The Home Office has already claimed that `an increase in suspected sham marriages has been accompanied by a rise in enforcement action'.
Quoting statistics, the Home Office only recently said: `Registrars reported 934 suspected sham marriages in 2010, compared to 561 the previous year.
`But, 155 arrests have been made by UK Border Agency officers in recent targeted operations.

The statistics came along with UK Immigration Minister Damian Green reiterated commitment to cracking down on marriages for visas.
Green said: 'We will not tolerate immigration abuse, including sham marriages.
'The UK Border Agency investigates all reports of suspected sham marriages — and recent enforcement action has resulted in 155 arrests'.