`Victim' Alfadley came to the UK from Kuwait in 2004
31st March 2011: In what could be a disturbing revelation, a civilian detention officer has been accused of hurling a cup of near-boiling water at prisoner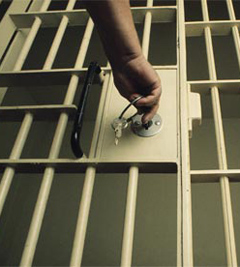 A Jury heard the officer intentionally threw the cup over a prisoner in a cell as he was allegedly being disruptive.
As a result of the hot water being thrown over him through a hatch in his cell door at Barnsley Police Station, Abdul Aziz Alfadley went through scalding injuries to his lower abdomen and genitals.
Alfadley, 26, had come to the UK from Kuwait in 2004. Prosecuting, Jeremy Hill-Baker told Leeds Crown Court closed circuit TV footage clearly showed custody detention officer Adrian Law returning from the kitchen with the plastic cup in his hand allegedly containing hot water almost at boiling point. He deliberately threw it on to Alfadley, wearing only boxer shorts.
Detention officer Adrian Law of Cromwell Court, Goldthorpe, near Barnsley, on the other hand, has denied causing grievous bodily harm with intent on May 30 last.
But Hill-Baker said as a result of the incident Alfadley screamed and attempted to alleviate his pain by splashing cold water on himself from a tap in his cell. But the supply was cut off after the custody staff saw the amount of water on the floor.
Later at about 3.30am, he was seen by a nurse before being taken to a hospital. The jury was also shown pictures of his injuries, including reddening and blistering. As per the tests, the water in the kitchen boiler was at 94.7 degrees.
Hill-Baker said Alfadley was taken to the police station in the early hours following his arrest in the town centre on a public order offence.


It is being alleged that Alfadley was agitated and disruptive. He could not even be read his rights at the custody desk before being taken to the cell, where he was subjected to a strip search.
Left in his shorts, he was heard time after time banging on the cell door.
Hill-Baker said Alfadley experienced someone looking in, then a few moments later the hatch opened and a hand reached through and the contents of a white plastic cup being thrown on to his lower abdomen and genital area.
The type of injuries found were not consistent with self inflicted trauma, he added.
Alfadley told the jury through an Arabic interpreter he was drunk, but had not used drugs and did not think he should have been arrested. He added the treatment he received when taken to the cell was "barbaric".
He was on his back banging the cell door, when he saw somebody looking in at him. After some minutes, he brought a cup of water and he poured it on his body. The skin was burned.
Law, meanwhile, claimed Alfadley was "irate and agitated" . As he began banging on the cell door, Law said he thought Alfadley might have used amphetamines. Such people could burn themselves out and require water.
As such, he kept checking on him but in return heard verbal abuse. Rather, he was not able to give him a blanket as a result of his continued behaviour.
Law said he got the prisoner some cold water, but as he put his hand through the hatch the prisoner flipped the cup and it spilt. He later saw the prisoner rubbing himself and splashing water.
Law said he had no idea how the complainant his injuries, adding he professional, fair, considerate and caring at all times in accordance with his duties.
The trial continues.