You need to be on the electoral register to cast your ballot on May 6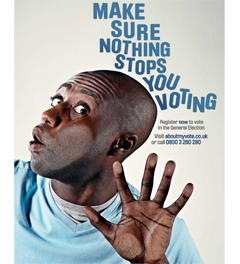 13 April 2010. A UK general election will be held on Thursday 6 May 2010 and local elections are scheduled to take place on the same day in some parts of England.
To make sure you have the chance to have your say on British politics, on important issues that affect you, and on who represents you in your local council, in the UK Parliament and in Europe, you must register to vote in time for the elections.

If you don't register, you can't vote! If you go to the polls without being registered, you will not be allowed to cast your ballot. To vote in any UK elections, you have to be on the electoral register.
So register to vote as soon as possible.
Registering to vote doesn't mean you have to, it just means you can if you want to.
Remember: across the world people have died fighting for the right to vote and be part of a democracy. By registering to vote, you'll be showing that you think that right is important.
Think about it this way – in the UK, less than 100 years ago, people were killed during their struggles to get the vote for women. In South Africa, not until the end of apartheid in 1994 were black people able to vote for the first time. Today, many people across the world are still denied the right to vote.
WHO CAN REGISTER TO VOTE?
You can register to vote if you are:
• 16 years old or over and
• a British citizen
• or an Irish, qualifying Commonwealth or European Union citizen who is resident in the UK


You can register to vote even if you don't have a permanent address.
If you are 16 or 17, you can only register if you will be 18 within the lifetime of the electoral register. You cannot vote until you are 18.
Below is a full list of Commonwealth and European Union countries.
If you are a citizen of one of these countries, and resident in the UK, you are eligible to register to vote in UK elections.
To qualify, Commonwealth citizens must be resident in the UK and either have leave to remain in the UK or not require such leave. The definition of a 'Commonwealth citizen' includes citizens of British Crown Dependencies and British Overseas Territories.
Citizens of the European Union who are not Commonwealth citizens can vote in European and local elections in the UK, but are not able to vote in UK Parliamentary general elections.
European Union countries
Austria, 
Belgium, 
Bulgaria
, Cyprus, 
Czech Republic 
Denmark, 
Estonia
, Finland, 
France
, Germany
, Greece
, Hungary
, Ireland, 
Italy, Latvia, 
Lithuania, 
Luxemburg
, Malta,
 Netherlands, 
Poland,
 Portugal
, Romania,
 Slovakia,
 Slovenia,
 Spain, 
Sweden
, United Kingdom
Commonwealth countries
Antigua and Barbuda
, Australia,
 The Bahamas,
 Bangladesh, 
Barbados
, Belize, 
Botswana,
 Brunei, Darussalam
, Cameroon,
 Canada,
 Cyprus,
 Dominica,
 Fiji Islands
, The Gambia,
 Ghana, 
Grenada,
 Guyana,
 India, Jamaica,
 Kenya,
 Kiribati,
 Lesotho, 
Malawi,
 Malaysia,
 Maldives
, Malta, 
Mauritius
, Mozambique,
 Namibia, 
Nauru, 
New Zealand, 
Nigeria, 
Pakistan,
 Papua New Guinea, 
Rwanda, St Kitts & Nevis,
 St Lucia, St Vincent & The Grenadines,
 Samoa, Seychelles
, Sierra Leone
, Singapore,
 Solomon Islands,
 South Africa
, Sri Lanka, 
Swaziland
, United Republic of Tanzania, 
Tonga, 
Trinidad & Tobago, 
Tuvalu
, Uganda,
 United Kingdom, 
Vanuatu, 
Zambia,
 Zimbabwe
HOW TO REGISTER TO VOTE

It's easy to register: visit www.aboutmyvote.co.uk – and fill in your details on the website. Then you just need to print the form, sign it, and send it to your local electoral registration office. You can get their address and other contact details on the website.