Tony Baldry ask people to hop on bikes and head north of Border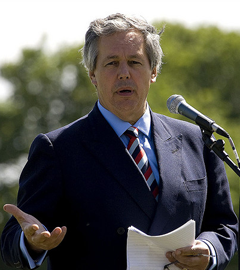 25 January 2011: Veteran Conservative MP from Banbury Tony Baldry has raised a dust of controversy by asking people in England to hop on their bikes and head north of the Border for filling up Scottish jobs taken up by immigrants.

Baldry's assertion came during home affairs questions. At that time, the Scottish MPs were complaining that the coalition's immigration cap was of disadvantage to Scotland. The worse affected were the universities.
During the questions, Labour's Dundee West MP Jim McGovern asserted the universities and businesses in Scotland were finding it tough to recruit the right sort of talent due to the new tougher immigration rules for those outside the European Union.
Baldry asserted his Scottish great-grandfather, unable to find work north of the Border, "moved south to England to find a job".
Baldry added shouldn't people from England think about going the other way, if there were jobs in Scotland.
Immigration minister Damien Green said he agreed with Baldry.