To concentrate on his re-election campaign to European Parliament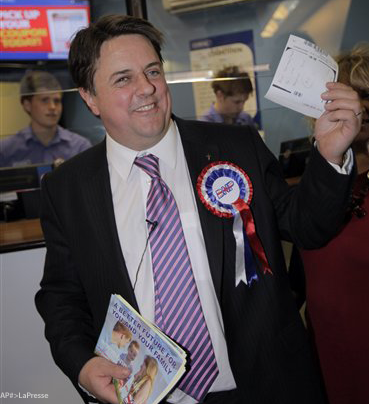 25th May 2010: Less than a month after his defeat in the general elections, Nick Griffin has announced he will step down as the British National Party leader in another three years.
MEP Griffin announced his intention to step down as leader by the end of 2013 to concentrate on his re-election campaign to the European Parliament.
Griffin and another BNP member were elected to the European Parliament last year, with the party taking nearly a million votes, its best-ever election result.
Known for his anti-immigration stand, Griffin after the elections conceded defeat in a bid to become his party's first MP, after Labour veteran Margaret Hodge was declared victorious in her battle for the east London seat of Barking.
After his unyielding stand against immigration failed to find support with the voters, he was told to "pack your bags and go".
Amidst cheers, Hodge had asserted the message from the people of Barking was loud and clear "Pack your bags and go."
In its website, the BNP said its Advisory Council (AC) and other key figures of the party's structure have completed a weekend of forward planning to overhaul and modernise the party, as Griffin MEP announced his intention.
The extended AC meeting and strategy planning session, held in the East Midlands, also contained a full analysis of the election results, a report on current membership levels, a review of the modernising measures the party is putting in place to bring its election fighting capability up to speed and a no-holds barred presentation and question and answer session with party consultant Jim Dowson.
Griffin made his leadership decision announcement at the end of the first day of the proceedings.
"By then I would have been leader of the BNP for 15 years and that is long enough," Griffin said.
"It will be time to make way for a younger person, who does not have any baggage which can be used against the party."
Griffin said the timing of his move was predicated by his desire to bring about what he called the putting into place of the last "building blocks" of the BNP's administrative and political machine.
"This is going to take at least 18 months to implement and after that I intend to hand the party over to someone who will be able to drive support up to where it can be a serious contender for power," he said.
Griffin said he would concentrate on getting re-elected to the European Parliament in the 2014 Euro elections, adding he was sure the party could retain its two seats and add several more to the tally.
"I then intend to help the other European nationalist parties to achieve the level of sophistication which the BNP has been able to build up, because a victory for any one of these parties is a victory to all of us."