Come across difficulties in accessing legally purchased sites

28th February 2011: When as many as 10 Romany Gypsy families moved on to a legally purchased site in May 2010, little did they realise it was the beginning of troubles for them.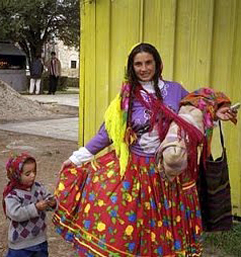 The families furnished an application for planning permission to develop the land. The permission was refused. The families are currently awaiting the result of an appeal, due to be heard on 22 March. As of now, there is an enforcement notice against the site.
This is just one of the instances. Harmit Athwal of the Institute of Race Relations (IRR) News revealed how Gypsy and Traveller communities, over recent years, have come across more and more difficulties in accessing sites that should be provided by local councils but are invariably not.

As a result, a situation have arisen where families purchase land quite legally and properly, but run in to problems with local authority planning departments.
IRR News says it spoke to one of the families on the site regarding the continuing racism faced by them n the last eight months; they have, rather, experienced round the clock 'peaceful' protests at the entrance to their site by local residents who have formed the Meriden Residents Against Inappropriate Development.
The spokesperson for the English Romany Gypsy Society said the protestors sat around drinking all day and acted aggressively towards the Gypsy families on the site. The group has also put up a caravan on privately owned ground, across the road from the site not been subject to any enforcement notice. 'There are two laws, one for them and one for us,' he told the IRR News.
He adds gypsies in Meriden — a small rural community in the Midlands between Solihull and Coventry — are in the line of fire from the local community since 2010, even as the struggle hard to preserve their way of life. The pattern is being repeated across the UK.
Referring to the media reports, he says sections of the media have been coming out with reports on the 'plight' of local Meriden residents opposing the proximity of the Gypsies. But no one has reported on how the Gypsy families feel about their treatment.
The IRR news added the government has been holding consultations on new laws expected to directly affect families such as those at Meriden. It added proposals have also been mooted to reform planning which would put 'power back into the hands of the people'.
"The bill suggests that new provisions will be made for more authorised sites, yet the government intends to abolish Regional Spatial Strategies which set targets for local authorities on the provision of land for Gypsies and Travellers. The bill includes clauses to reduce appeal rights in retrospective planning applications and allow local planning authorities to refuse to consider planning application where enforcement notices have already been issued," the IRR added..