'Keeping Britain's border secure is a priority for this Government'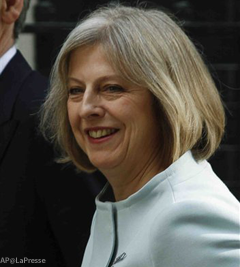 14 June 2010: Home Secretary Theresa May has reiterated that the new government was committed to introducing a limit on the number of non-EEA migrants coming to work to the UK.

She has asserted: 'The new Government is committed to introducing a limit on the number of non-EEA migrants who come here to work, contributing to a reduction in net migration back to the levels of the early 1990s – tens of thousands not hundreds of thousands. If this is to happen successfully, our border must be stronger than ever before.'
She added: 'Keeping Britain's border secure is a priority for this Government – which is why it is crucial that we have vigilant border staff utilising the latest technology in our fight against the people traffickers, drug smugglers and illegal immigrants determined to come here and cause harm.

She was inspecting anti-forgery equipment, drug detection scanners and border control checks during her visit to Heathrow airport.
The new Home Secretary was given a tour of Terminal 5, where she met frontline officers and was given a chance to see the latest detection technology in action.
During her airport visit, the Home Secretary saw the staff at the border as they checked passports and quizzed passengers. She was also given a demonstration by detection dogs, saw forgery detection equipment and watched as officers used the latest technology to search bags for hidden, smuggled substances.
The Home Secretary was also briefed by the operation paladin unit, a joint UK Border Agency and Metropolitan Police team working at the border and in-country to identify child victims of trafficking and prosecute facilitators.