`Their lives are being put at risk' doctors
21st March 2011: Deadly facts on treatment of HIV-positive immigrant patients have surfaced. The doctors say hundreds of HIV-positive immigrants are routinely denied essential medication in British detention centres. As a result, their lives are being put at risk.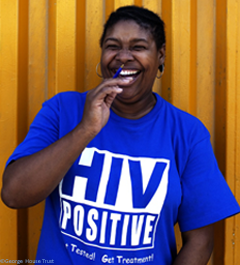 The doctors have also called for improved healthcare facilities in immigration detention centres. Or, in alternative, they are seeking the release of those suffering from the condition.
Carried in a report by the charity Medical Justice, the evidence will be placed before the Court of Appeal next month. It will come up for consideration, as three HIV-positive migrants seek to directions for ruling their detention unlawful, due to the centres' failure to treat them properly.
The first to examine the treatment of HIV-positive immigration detainees in Britain, the report examines the case of 35 detainees with the condition, including women and children.
Approximately 60 per cent of the detainees studied faced interruption in their treatment due to detention. As a result, many developed resistance to mainstream antiretroviral drugs. In the process, their lives were put to risk. In some cases, the resistance made it impossible for them later to find effective medication.
The study also found more than three-quarters were deported with little or no medication, even though the doctors say this presents a serious public health risk.
This was also against the government guidelines stating that they should be given a three-month supply before removal. It was also found some detainees were forced to undergo medical examinations, while they were handcuffed to guards, even though they were not guilty of any crime. Some others were even denied access to hospital appointments with HIV specialists.
Quoting an example, the report says a pregnant detainee had less than a month's medication, when an attempt was made to deport her, even as it is vital that treatment is continuous during pregnancy to avoid infecting the unborn child.
According to Unicef, approximately 60 per cent of all new HIV cases in the UK were sub-Saharan African immigrants. As many as 6,630 new cases of HIV infections were in Britain in 2009. It was more than double the number recorded 10 years before. Most of those studied fled their native land for refuge in the UK. Nothing less than 80 per cent discovered their HIV infection after arriving in Britain.
Dr Indrajit Ghosh, a GP and HIV specialist, said the UK Border Agency claims that healthcare in its centres is equivalent to that in the NHS, but the report shows that being in detention leads to a situation in which these patients cannot access proper medical care. In the case of HIV, this is a threat to the patients' lives. HIV-positive people should therefore be released and properly cared for.
Diane Abbott, the shadow public health minister, claimed poor treatment resulted in a "serious public health hazard".