Police calls Sukhwinder Singh a hero.
So far, increasing crime was often linked to immigration tide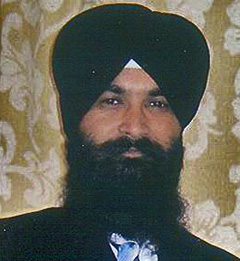 12 January 2010: Even though the rise in crime has often been linked with the inflow of migrants, the brave attempt made by an Indian to prevent crime has changed the perception.
Sukhwinder Singh's death in the attempt to nab two snatchers has made the police says the dead man was a hero who had lost his life bravely trying to prevent more crime being committed in
his community.
Living in London for a decade, Singh had intervened despite not knowing the victim. Even as he is being widely hailed as a hero for coming to the rescue a woman being mugged on the streets of London, the police said people should they put their own safety first.
A spokesman for Metropolitan Police said people should not be deterred from intervening, if they witnessed a crime as long as they put their own safety first.
Sukhwinder Singh, a 31-year-old Indian national and father of one, died in hospital. He was stabbed by two men, fleeing after snatching a woman's handbag in the east London suburb of Barking. He chased the thieves after witnessing the attack on the 28-year-old woman.
After chasing the duo along several residential streets, Singh caught up with the pair. In the fight that ensued, Singh was fatally wounded. A builder by profession, he was taken to the Royal London hospital, where he later died.
According to the available information, the woman, identified as Indian student Karamjit Kaur, was walking home at about 6. 40 pm on Friday, when the incident occurred.
Meanwhile, the locals as well as police praised Sukhwinder for coming to the aid of a woman he did not know. Karamjit Kaur has been treated in hospital for shock, and is too distraught to speak, but a friend said on her behalf she wants to thank Sukhwinder for what he did. It is very sad, no one expects that to happen.
Guy Dehn said Sukhwinder's murder was "every bit as serious as the murder of a policeman" and should be treated as such by the court.