`System is faulty': Philip Davies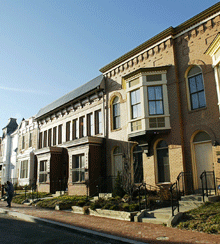 31st August 2010: Even though the arrival of eastern European workers, and their families, since the opening up of EU has pushed Brits back in the housing queue, the government has categorically stated that people offered the homes are not at fault. The problem is with the system.
Conservative MP for Shipley, West Yorks, Philip Davies, has asserted immigration from eastern Europe is putting a massive strain on local authorities, especially when everyone is having to cut costs.
It helps build up resentment that otherwise wouldn't exist. But it is not the fault of the people offered these homes, it's the fault of the system.
Approximately 4,000 local authority homes went to immigrants, including Poles and Lithuanians, last year. As of now, the council house waiting list stands at 1.8million and the average waiting time in the UK is six years.
Whitehall figures revealed at least 310,000 council and housing association properties are registered to people who are not UK citizens.
As of now move is on to introduce tough new rules for according preference to local people.
The new guidelines suggest time, rather than just the "needs", would be the criterion. The town hall bosses would be able to take into account the length of time spent in an area, than just their "needs".
The town hall bosses will be allowed to carry out National Insurance checks. It would mean immigrants prepared to work will be rewarded.
The Prime Minister said it was wrong to have people who cannot afford private housing on the waiting list, while allowing others with well-paid jobs to keep council homes.