Russian-born physicists may be last of their kind, in case of cap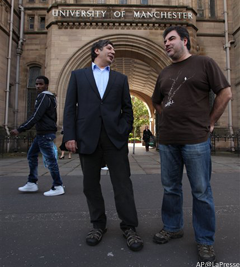 7th October 2010: Russian born physicists based at the University of Manchester Andre Geim and Konstantin Novoselov were named as winners of the Nobel Prize in physics.
But they could very well be the last of their kind, if the government goes ahead with its plans to reduce the number of non-European Union migrants and cut down on investment in science.
Already critics of the government believe that slashing the number of migrants by bringing in the cap will only block talented non-European Union migrants from coming to the UK.
It is also believed the cap will hamper research. After political figureheads, businesses and law firms, even institutions offering higher education in the UK have expressed concern over immigration cap.
The institutions believe a cap on tier 2 — the main route for international academics — would make poor the cosmopolitan nature of the education sector by reducing the hiring of new non-EEA professors and number of visas renewals.
The director of the Campaign for Science and Engineering, Imran Khan, was among the ones warning that Geim and Novoselov could be the last of their kind.
Khan said the Nobel prizes were a fantastic endorsement of British science. Both Geim and Novoselov were brilliant examples of foreign scientists coming to the UK as the country was a global research hub. But it may all come to an end if the government presses ahead with its plans to slash investment in science and block talented non-EU migrants from coming here.
President of the Royal Society, London, Martin Rees, said the Russians were attracted to the UK by the promise of a supportive environment in a first-rate university. The UK must sustain its science at a competitive level in a world where talent is mobile and other countries are advancing.
As of now, nothing has been heard from the Prime Minister on their success.