'We welcome the role Indian workers play to the UK economy'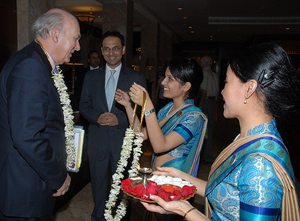 18 January 2011. On his visit to Mumbai yesterday, accompanied by a large delegation of around 50 UK companies, Business Secretary Vince Cable has expressed his appreciation of the massive contributions made by the Indian Diaspora in the UK.
'We welcome the role which Indian workers play to the UK economy', he said, in a speech delivered on Monday at the Taj Mahal Hotel in Mumbai.
Mr. Cable's second mission to India is only the latest of initiatives meant to foster business and trade opportunities between the two countries within a longer term strategy to develop their bilateral relationship, well beyond the sentiment and history that connects them, of 'only passing interest' to the new generation of Indian entrepreneurs.
'Our business relationship is already strong,' said the Business secretary, 'but it could be stronger.
'Bilateral trade is worth around £11.5bn, with 17% of India's exports to the EU going to the UK. There are around 700 Indian companies with investments in the UK, and the UK receives more than 50% of India's investment into Europe.
To ease the concerns about the recent measures taken by the British government to tighten visa rules for immigration, Cable told reporters that although the British government had tightened visa rules for immigration, it was more applicable to unskilled migrants as it was put in place to safeguard their own labour force but not as relevant for skilled workers, reported the Times of India. 'Indians and Indian businesses have played a huge role in the growth of the British economy, so we encourage skilled workers to our country,' he said.
Addressing this problem from the perspective of Indian companies, he said, 'I recognise there have been concerns expressed in some quarters in India that changes to British rules on migration might be detrimental to Indian firms, but I would like to state for the record that the Government has exempted Intra-Company Transfers from the annual limit which comes into effect in April.
It is largely recognised that India's growth rate could reach 10% annually, overtaking China, and Britain wants to be a part of the country's rapid growth story by investing in the country.
'Companies such as the Tata Group, JCB, BAE, Standard Chartered, Wipro, Reliance and Infosys already operate in both the UK and India and I want to see more of that', he added, underlining the opportunities that exist in India for British companies, and for Indian companies to partner with their British counterparts.
'I don't want to just stress the opportunities that exist in India. The UK offers Indian companies many opportunities as a destination in itself, and as a launch pad for further European expansion,' he said.

Related articles:
Let's re-cap: a breakdown of major changes to the UK Immigration Law