End strike
12th May 2011: Three failed asylum seekers from Iran, including the one who had sewn his mouth together with fishing wire, have been granted a second chance to stay in the UK. With this, they have called off their 37-day hunger strike in Croydon.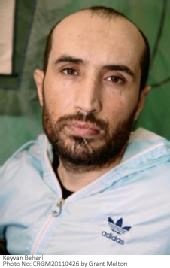 In nothing but a desperate attempt to have their asylum claims accepted by the UK government, they hade not eaten all these days; and had established a crude camp outside the Lunar House immigration centre in Croydon, south London.
Even as the British government was chalking out plans to send them back to Tehran, the men kept claiming their lives would be put to danger in case of deportation. Elaborating on the reasons, they asserted they participated in protests against the Iranian regime in 2009. In the process, they were beaten and tortured.
Mahyar Meyari, 17, had claimed he was given brutal treatment for taking part in a demonstration. He was blindfolded, taken to an unknown place and kept for a week, was repeatedly hit on the head by batons and even raped.
Keyvan Bahari, 32, insisted their protest was the last resort to bring their plight to the notice of the UK authorities.

He added they have sewn their mouths as there was no other way. Nobody in the UK heard them or cared what they said.