She was allegedly put behind bars without any charge for a year and hurt by staff
17 January 2010: Denise McNeil, a 35-year-old Jamaican who went on hunger strike in protest at her detention in the Yarl's Wood immigration removal centre, claimed she had been silenced by the state after being held in a prison without charge for almost a year.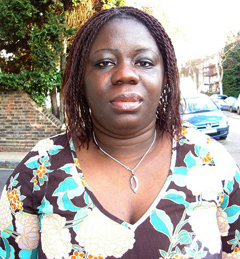 She was transferred from the centre in Bedfordshire to Holloway prison in London last February after her hunger strike ended in violence when she was allegedly assaulted by Yarl's Wood staff. Her lawyer said her imprisonment was highly unusual as McNeil, a mother, could not be classified as a risk to the public and so be legally detained in prison.
She is awaiting the outcome of a judicial review of her case after being refused leave to remain in the UK. Her lawyers say her child's welfare would be affected if she returned to Jamaica. Her brother was killed by gangs in March 2010 following his forced removal from the UK.
Two other alleged ringleaders – Sheree Wilson from Jamaica and Aminata Camara from Guinea in west Africa – were also moved to Holloway. All three were expecting bail hearings this week.
Hani Zubeidi, of London-based solicitors Fadiga and Co, believed that his client was singled out to deter other detainees from speaking out.
Campaigners stated that McNeil was hurt in scuffles with immigration staff on February 8 last year. They added that she had not received adequate medical attention.
McNeil's youngest son, eight-year-old Tre-Anri, was said to be traumatised by his mother being locked up in prison and is receiving psychiatric care.
Inmates were not allowed mobile phones and McNeil, in a letter she wrote from prison, said she found it difficult to keep in touch with her son, who was a British national. "This country says it puts children first, but it's clear it doesn't," she wrote.
She demanded her release to look after her children which she claimed was every mother's right. She alleged that they moved her from Yarl's Wood to cover up what they'd done and to stop her ability to talk out.
The Yarl's Wood Hunger strike lasted for five weeks until an outbreak of trouble during which McNeil claimed she was beaten and then put in isolation for four weeks before being moved to Holloway, Britain's largest women's jail.
McNeil, who has lived in the UK for more than 10 years, was arrested in September 2008 for possession of cannabis for personal use. She served a six-month prison sentence and was detained in Yarl's Wood upon her release in January 2009. It is now more than two years since she was able to care for her son.
Cristel Amiss of the Black Women's Rape Action Project said that when people stand up against authority they're targeted and that's the price they are paying. The hunger strikers demanded the immediate release from detention of all mothers separated from their children, and all vulnerable people, including survivors of rape and other torture.
A high court judge had ruled that two mothers and their children were unlawfully detained at Yarl's Wood, putting the spotlight on the government's pledge to end the detention of children in immigration centres by May.
It is understood the Home Office identified the women as troublemakers and detained them in Holloway while their immigration cases were reviewed. Officials say there is no evidence of an assault by immigration staff at Yarl's Wood following the hunger strike.