He made 'inappropriate judicial intervention in political process'


19 May 2010: Nearly a year after he asserted a "lax immigration policy" has been in existence for some years now; and a large numbers of immigrants were coming to Britain just for welfare benefits, Judge Ian Trigger has been given an official rebuke.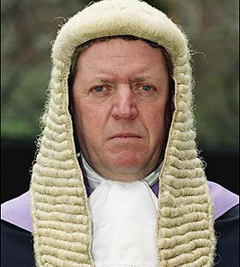 Labour former justice secretary Jack Straw, who until last week policed judicial behaviour with the Lord Chief Justice, asserted Judge Trigger made 'an inappropriate judicial intervention in the political process'.
The criticism of immigration policy was 'wholly unrelated' to the case of the Jamaican drug dealer.
Judge Trigger had made the assertions while giving a two-year jail sentence to the Jamaican drug minder, who disappeared from the notice of immigration authorities after claiming asylum.
Judge Trigger told 31-year-old Lucien McClearley at Liverpool Crown Court his case exemplified all too clearly the completely lax immigration policy that exists and has existed over the recent years.
Judge Trigger had added there were literally hundreds and hundreds of thousands of people like him, who come to these shores to avail themselves of the generous welfare benefits that were in existence here.
The Judge was also of the view the national debt of the country has risen to extraordinary heights in the past 10 years largely because the central Government has wasted billions of pounds. Much of that has been wasted on welfare payments.
Judge Trigger, who is also a part-time immigration judge, had added for every £1 that a hard-working decent citizen was paying in taxes, nearly 10 per cent was going on servicing that national debt.
Judge Trigger had also described Britain as a soft touch for illegal immigrants.
The Lord Chief Justice, Lord Judge, had referred the matter to the Office for Judicial Complaints (OJC) for finding whether the outburst was too political.
The referral was not related to the judge's comments on the specific case or the sentence. The OJC was asked to focus on the propriety of the judge's statements and assertions. It was also see whether the assertion went beyond the facts of the case and extended overtly into the political arena.
At that time, chairman of Migrationwatch Sir Andrew Green had appreciated the judge by saying Judge Trigger spoke with a good deal of courage. There was a great deal of concern in many parts of the judiciary about the number of failed asylum seekers; and there ought to be some way in which those concerns could be expressed without infringing judicial guidelines.
Then shadow Immigration Minister Damian Green had asserted the judge was right; and the long-term failure of the then Government's immigration policy was having its effects in many areas of national life.