A manhunt has been launched after a bomb was detonated in a suspected terror attack on a packed London Underground train.
Witnesses described scenes of terror and panic as the blast sent a "fireball" and a "wall of flame" through a District line service at Parsons Green station in West London.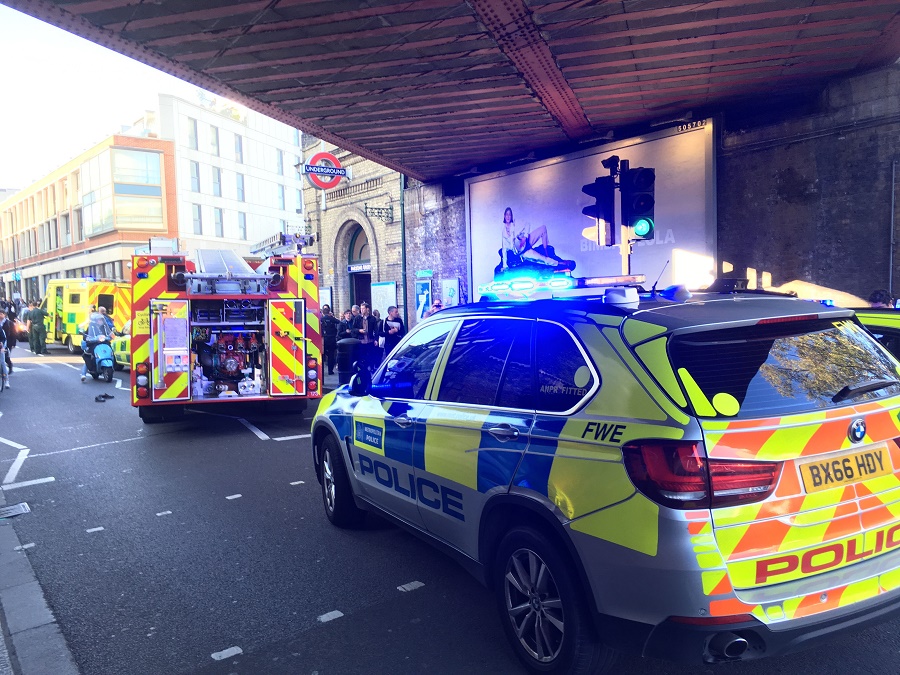 Police suspect the explosion was sparked when an improvised explosive device was detonated, and have launched a huge counter-terrorism investigation alongside MI5.
The device is being forensically examined while detectives are scouring CCTV and examining witness statements for potential leads.
London Mayor Sadiq Khan told LBC radio "there is a manhunt under way as we speak", while Scotland Yard said detectives are making "fast-time" inquiries to establish who was responsible, adding that there have been no arrests.
As Britain faced up to another terrorist incident following four attacks already this year:
:: Images emerged on social media appearing to show wires protruding from a flaming bucket inside a plastic carrier bag on the floor of a carriage;
:: Reports suggested the device had a timer;
:: A total of 22 patients were being treated in hospital, with a number of those hurt suffering from burns;
:: Scotland Yard declined to comment after US President Donald Trump tweeted: "Another attack in London by a loser terrorist. These are sick and demented people who were in the sights of Scotland Yard. Must be proactive!"
:: Home Secretary Amber Rudd said: "Once more people going about their everyday lives have been targeted in a callous and indiscriminate way."
:: Prime Minister Theresa May called a meeting of the Government's Cobra emergencies committee.
Police were called at around 8.20am on Friday morning following reports of a fire on the District line train as it pulled into the station.
Emergency services including armed police rushed to the scene and cordoned off the station.
Sylvain Pennec, a software developer from Southfields, near Wimbledon, was around 10 metres from the source of the explosion when fire filled the carriage.
"I heard a boom and when I looked there were flames all around," he said.
"People started to run but we were lucky to be stopping at Parsons Green as the door started to open."
He described the scene of panic as commuters struggled to escape the carriage, "collapsing and pushing" each other.
Mr Pennec stayed behind to take a closer look at what he believed was the source of the explosion.
"It looked like a bucket of mayonnaise," he said.
"I'm not sure if it was a chemical reaction or something else, but it looked home-made. I'm not an expert though."
Chris Wildish, who was on the train, said he saw a "device" in the last carriage.
He told BBC 5 live: "Flames were still coming out of it when I saw it and had a lot of wires hanging out of it – I can only assume it was done on purpose.
"It was standing against the door of the rear-most carriage."
Media technology consultant Richard Aylmer-Hall, 53, was sitting on the service bound for central London when panic unfolded.
He told the Press Association: "I was blissfully reading my paper and listening to a podcast and suddenly the whole world charged past me down the platform, down the Tube.
"There was a woman on the platform who said she had seen a bag, a flash and a bang, so obviously something had gone off.
"I saw crying women, there was lots of shouting and screaming, there was a bit of a crush on the stairs going down to the streets."
BBC correspondent Riz Lateef, who was at the station travelling to work, said there was "panic as people rushed from the train, hearing what appeared to be an explosion.
"People were left with cuts and grazes from trying to flee the scene. There was lots of panic."
Assistant Commissioner Mark Rowley, the country's most senior counter-terrorism officer, said "many urgent inquiries" are ongoing.
He said: "We now assess this was a detonation of an improvised explosive device."
Asked if it was clear whether the person responsible was on the train at the time, Mr Rowley said: "It's very much a live investigation and we are following down the lines of inquiry as I said."
Mr Rowley said Londoners can expect to see an "enhanced police presence" and called on anyone with information to contact authorities as a matter of urgency.
The blast comes with the UK on high alert following four terrorist attacks so far this year.
Authorities have foiled 19 plots since the middle of 2013 – including six since the Westminster atrocity in March.
The incident comes a day after figures revealed terror-related arrests in Britain have hit a new record high, with suspects held at a rate of more than one every day.
Police and MI5 are running 500 investigations involving 3,000 individuals at any one time, while there are also 20,000 former "subjects of interest" whose risk must be kept under review.
Imperial College Healthcare NHS Trust, which earlier declared a major incident at St Mary's Hospital to deal with the attack, tweeted: " St Mary's Hospital has now been stood down from the major incident."
By Press Association