Commissioned by Health Department, it underlines vital their vital role
15th October 2010: A report commissioned by the Department of Health and produced by the South East Migrant Health Study Group has brought to fore the important part migration plays in the economic, cultural, social and educational life of England generally and the South East specifically.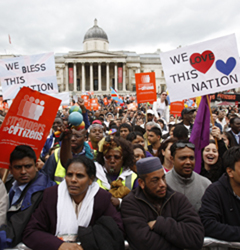 The report, `Understanding the health needs of migrants in the South East region', describes migrants as a diverse and dynamic group with variable and varying health needs.

The research collaboration led by Thames Valley Health Protection Unit, includes South East Public Health Observatory; the University of Oxford; NHS Berkshire East Primary Care Trust; Slough Borough Council and the Health Protection Agency's Centre for Infections.
Elaborating on the meaning of migrants as contained in the report, it says they can be those seeking employment or education. Also included are asylum seekers and refugees, along with family members joining relatives already resident or undocumented people in the country illegally.
The report says the largest and most significant groups in the South East are economic and educational migrants and family joiners. The vast majority of migrants enjoy good health.